North Carolina Department of Correction
Polk Youth Institution
The new Polk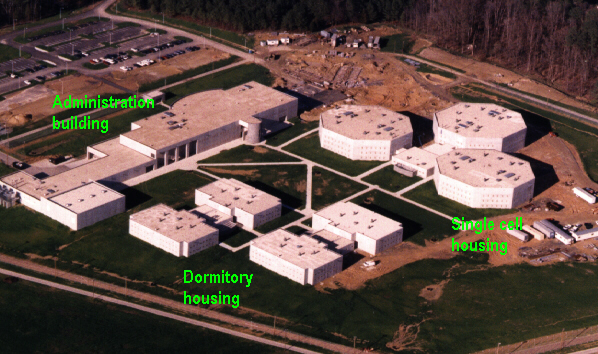 Polk Youth Institution will serve as a processing and diagnostic center, a point of entry into the prison system for all convicted felons between the ages of 18 and 21. The prison will have an administration building and eight housing units. In the administration building will be the administrative offices, dining facilities, medical, dental, educational, diagnostic, religious, operation, visiting and maintenance sections. There will be three single cell housing units and four dormitory units. Still under construction is the prison's super max facility, a new concept designed to provide the highest level of security.
As a processing center, Polk will receive convicted prisoners from all North Carolina counties. Upon arrival, the prisoners will be identified by photo, fingerprints and Division of Criminal Investigation check. They will receive a complete physical and a blood sample will be taken of all offenders sentenced for an assaultive crime for DNA registration. There will be psychological and achievement level testing. Prisoners will be evaluated for substance abuse problems and treatment will be recommended. All of this information will be reviewed and a classification profile will be developed for the prisoner to help correction staff make prison, work and program assignments. After completion of the two to four weeks of processing, the prisoner will be assigned to Polk or another prison unit in the state.
Prisoners assigned to Polk will be placed in a work detail, educational program or the Drug Alcohol Recovery Treatment program. Prisoners who score below the sixth grade level on achievement tests will receive mandatory education classes. Prisoners without a high school diploma may earn their G.E.D. Prisoners will be assigned to work in jobs including kitchen staff, janitors, grounds keepers, library assistants, maintenance workers and clerks. Mental health, religious and self-improvement programs will be offered.
The prison will have 538 employees. There will be 350 working in custody and security. The remainder will work in administrative, medical, programs, religious, educational, mental health and maintenance jobs.
The prison compound will have a 10-foot inner fence and a 12-foot outer fence with rolls of 30-inch razor ribbon. an electronic intrusion system will monitor the fence with two armed patrol officers roving the fence line.
The prison will have a community resource council and will seek community volunteers. Council members will serve two year terms and seek to stimulate community involvement with the prison.
Correction managers looking forward to new facility
Correction officers ready for move to new prison
Polk quick facts
Tour the new Polk Youth Institution
Polk built with new construction techniques
Tour the old Polk Youth Institution
Polk prisoner assignments
Polk Youth Institution's school
---