NC Department of Correction - Correction News - November 1996
News Briefs
Brunswick -John Lashlee, a processing assistant at Columbus Correctional Institution, was recognized by Medium Security Command Manager Robert Lewis for his participation in the Pre-Paralympics this past summer in Atlanta, Ga.
| | |
| --- | --- |
| | Summarizing his experience, Lashlee said, "I am very proud to have been part of such a great event. I left Atlanta, as I hope others did, with a realization that Paralympics were not all about sports. Myths were dispelled and walls of prejudice were knocked down. We, as wheelchair athletes, could and do exist as productive members of society as a whole, outside our own society of crutches, braces and wheelchairs. We have jobs, families, friends, joys, and sorrows just as everyone else." |
"I have to express my gratitude to Columbus Correctional Institution for allowing me to take two weeks vacation, on such short notice, to participate in an event of a lifetime."
Raleigh - State Employees Combined Campaign Chairman Franklin Freeman congratulated DAPP Director Theodis Beck September 24 during DOC's kickoff of the Combined Campaign. DAPP was recognized for its continuous improvement and received the Supreme Effort Award for last year's contributions. Catherine Garner, SECC coordinator in personnel received a $100 savings bond. The personnel office had the greatest increase in pledges between 1994 and 1995. Jerry Grady, SECC coordinator in the substance abuse office received a $50 savings bond for the second highest increase in contributions.
Black Mountain - Second shift staff at Black Mountain Correctional Center for Women were recently recognized by Supt. Renae Brame. They supervise the BMCCW Inmate Women's Club which feeds about 70 homeless men, women, and children at a local shelter in Asheville. The quarterly project was the idea of Sgt. Gary Strickland. The Women's Club purchases or gets food items donated and cook the meal. The homeless are also given fresh produce from the prison garden. Feeding the homeless isn't the only way inmates are trying to turn their lives around. They also assist VA cemetery staff with pulling weeds and beautifying the grounds.
Maury -Staff and Community Work Program inmates at Greene Correctional Center were recognized by Sergeants Donald Speedy and Lewis Sowers following Hurricane Fran. The prison received calls from several local communities for emergency assistance. Several crews worked 12-hour days (including weekends) for nearly three weeks.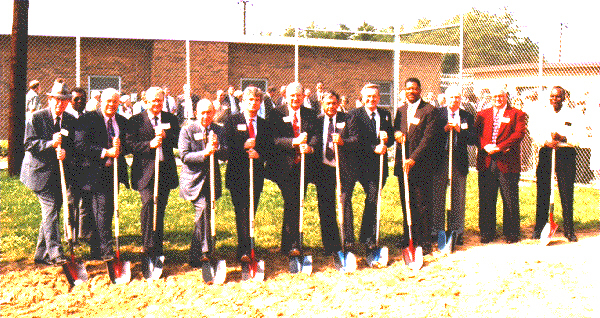 Ground was broken September 26 for the new chapel at Craggy Correctional Center. Several dignitaries were on hand including (left to right) John A. Higdon, Craggy Chapel Fund; George Hawley, Craggy Chaplain; Frank Shirley, NC DOP Western Area Chaplain; John T. South, Chapel Fund General Chairman; Franklin Freeman, NC Correction Secretary; Mack Jarvis, NC Correction Deputy Secretary; Grant Spicer, NC DOP Western Area Administrator; Marcus Hughes, Craggy Superintendent; Roosevelt Wilkerson, NC DOP Chief of Religious Services; Michael Smith, Building Committee member; Rev. Gayle Brown, Chapel committee member; and Ernest Dansby, Craggy volunteer.
| | |
| --- | --- |
| | Intensive and surveillance officers from the Charlotte office of the NC Division of Adult Probation and Parole successfully completed the Challenge Obstacle Ropes Course at Blue Ridge Youth Center October 11. The concept behind the ropes challenge course is team building, bonding and strengthening relationships. Team members include Levi Dillihunt, Scott Haynie, James Fisher-Davis, Tracy Lee, Tracy Tyson, Thurman Richardson, Todd Laminan, Terri Cureton-Powell and chief probation and parole officer Cynthia Mitchell. |