N.C. Department of Correction--Correction News--April 1997
Parker Named DOC's 1996 Employee of the Year
15 Others Nominated
Raleigh - Sixteen DOC employees were honored during a March 24 reception for Employee of the Year nominees. Brent Parker was named Employee of the Year because of his heroic actions following a car accident. The ceremony was originally scheduled for October 1996 but was postponed because of Hurricane Fran. Secretary Mack Jarvis thanked all the nominees for their dedication and made the following comments:
| | |
| --- | --- |
| | Brent Parker is a correctional officer at Columbus Correctional Institution. Mr. Parker battled through extremely hot flames and smoke in an effort to rescue Edith Bass, a car accident victim, who was pinned inside her burning vehicle, screaming for help. Mr. Parker was the first person on the scene. Because it was a life or death situation, Mr. Parker first tried to break the car windows with his fist. He tried the car doors but they were jammed shut. With smoke pouring from the vehicle and the flames from underneath the car poking through the smashed floorboard, Mr. Parker jumped onto the roof of the car, ripped the sunroof from its mounting and with the assistance of a bystander, pulled Ms. Bass through a narrow opening. The entire car became fully engulfed in flames only seconds after Mr. Parker carried Ms. Bass to safety. She was flown to the North Carolina Burn Center in Chapel Hill to receive treatment for third degree burns covering half of her body. Mr. Parker continues to check on Ms. Bass as she recovers. |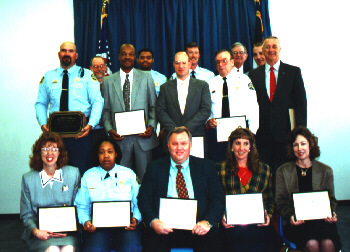 Nominees for the 1996 NC DOC Employees of the year attended a reception in Raleigh March 24. The nominees were also recommended for the Governor's Award for Excellence.
Carrol Caldwell is warden at the N.C. Correctional Institution for Women where the inmate population has grown from 650 to 1,150 over the years. This dramatic increase has placed a great deal of stress on daily operations. Ms. Caldwell has directed a variety of creative strategies to face this daily crisis. The growth demand has occurred simultaneously with massive construction and significant increase in staff and budget. Ms. Caldwell's greatest contribution to DOC can be seen in her integrity, dedication, and professionalism. She always shows a sense of fairness to both staff and inmates. Ms. Caldwell helped develop two unique programs. The Travel and Tourism toll-free phone program will see a major expansion, which includes a new building. Toll-free inmate operators will also be added to handle other reservation systems for state government. Ms. Caldwell has coordinated the efforts of several state agencies to develop this excellent program which will save taxpayers' money. The other unique program under Ms. Caldwell's direction is Mothers and Their Children, also known as MATCH. It allows inmates to have structured, supervised visits with their children at the prison. Ms Caldwell coordinated the implementation of this nationally recognized parenting program.
Zeb Crews is superintendent at Forsyth Correctional Center. During the ice storm last year, Mr. Crews embarked on a dangerous mission. He drove his prison's community work crew to Surry County two consecutive days. The crew scraped and cleaned the sidewalks at 15 Mt. Airy city schools and Surry Community College. According to Ms. Judy Thacker of the Mt. Airy school system, the schools may not have been ready to reopen as soon as they did without the prison's assistance. Mr. Crews risked his life on the slippery ice and snow by leaving his home in Surry County, driving to Winston-Salem to get the inmate work crew, and take them back to Surry County to work. He's obviously a very brave man who knows how to drive in any type of weather.
Randall Duell is a sergeant at Brown Creek Correctional Institution. Mr. Duell was driving home from the prison after a normal day at work when he noticed a tractor-trailer cross the center lane, go off the side of a bridge, fall down a 40-foot embankment and begin burning. Mr. Duell quickly flagged down a passing motorist, got a fire extinguisher, and rushed to the truck. He sprayed the base of the flames and the passenger door, the driver's only way out. After exhausting the fire extinguisher, Mr Duell fought the heat of other flames and pulled the driver, who has recovered, to safety. Mr. Duell credits his quick instincts to his correctional officer and Prison Emergency Response Team training.
Merlin R. Eggen is a judicial district manager for the 29th district. Mr. Eggen helped implement the automated offender supervision part of OPUS. DAPP employees in the fourth division tell me that Mr. Eggen has a second name, Mr. OPUS. Colleagues often rely heavily on Mr. Eggen for support, advice, and assistance at every level, from planning for training, to hardware related issues. His valuable assistance was a big boost to the Community Corrections Partnership Program. Mr. Eggen's coordination of probation and parole operations in his district's five counties is helpful to both the courts and the community.
Robert Foy is a correctional officer at Central Prison. One day when Mr. Foy was off-duty and shopping, he heard a commotion in the back of the store. He saw one shopper strike another shopper in the face with his fist and then run towards the exit. Mr. Foy quickly jumped over a rack of clothes and tackled the suspect, holding him until police arrived. The suspect was a young runaway from Tennessee. He had been shoplifting and had broken the victim's jaw. Store officials thanked Mr. Foy for his efforts and presented him with an award.
Djuana Glover is a food service supervisor at North Piedmont Correctional Center for Women. Center. Last year, when she worked at Davidson Correctional Center, Ms. Glover escorted an inmate to the soap room for supplies. The inmate shut the door, turned around with a knife and demanded that Ms. Glover give him the keys to the unit gate and to her personal vehicle. Ms. Glover quickly began trying to persuade the inmate not to harm her. She reached for her two-way radio but the inmate took it. Next, the inmate tried to tape Ms. Glover's mouth with duct tape. But each time, Ms. Glover would grab the duct tape and throw it to the floor. She pushed the inmate and attempted to run out the room but the inmate blocked the exit. Ms. Glover swung a steel, wire whip at the inmate but he managed to grab it. She then began screaming and the inmate handed her the knife. She radioed for help which arrived promptly. This incident was handled within the confines of the facility without endangering the local community. By remaining calm and keeping her cool, Ms. Glover managed to come out of this dangerous situation unharmed.
Donald D. Hamilton is a probation and parole officer in district 22. In a relatively short amount of time, Mr. Hamilton has demonstrated the ability to lead other officers and to handle the chief probation and parole officer's duties and fill-in when necessary. Mr. Hamilton is partly responsible for the success of the newly funded Davidson County Day Reporting Center. He maintains a specialized caseload of offenders ordered to that program. He has a positive, upbeat personality and spreads his energy and enthusiasm among his co-workers, keeping office morale high.
Yoleeta C. Howell is judicial district manager for district 18. She supervises one of the largest judicial districts in the state, Guilford County, without an assistant. Ms. Howell stays in constant contact with the court to make sure DAPP services are delivered in an efficient manner. She monitors community sanctions to keep judges updated on vacancies and overcrowding. She took the initiative and met with a superior court judge before he began a term in High Point. She explained how her judicial division had a heavy intensive caseload at the moment, but discussed vacancies in Electronic House Arrest, Impact and the Guilford County Day Reporting Center. The judge was grateful for this information. Ms. Howell assisted the day reporting center in setting up its program for offenders and locating a site. She has been able to offer first-hand knowledge of the center to the Guilford County Criminal Justice Advisory Board, of which she is a member.
Michael D. Hurst was a correctional officer at Piedmont Correctional Institution. He always seems to be in the right place, at the right time. He and another officer were transporting an inmate when they arrived at the scene of an automobile accident. Mr. Hurst reported the accident on his car radio. He quickly began first aid on the mother and child occupants of the car until a rescue squad arrived. A few months later, Officer Hurst and another officer were returning from Charlotte with an inmate when they noticed smoke coming from a car at an intersection. After reporting the fire, Mr. Hurst got his car fire extinguisher and began extinguishing the fire. The smoking car was parked beside a city bus full of passengers. The bus could not move because of heavy traffic. Although he was unable to put the fire out, Mr. Hurst was able to contain the fire until firemen arrived.
Randall E. Lee is superintendent at Caledonia Correctional Institution. He didn't know the meaning of the words "sick day." Before Mr. Lee had surgery in 1995, he had accumulated more than 1,700 hours of sick time and had never used any. That's a strong indication of Mr. Lee's devotion to his job. In addition to his duties as superintendent, Mr. Lee is also commander of the First Battalion Prison Emergency Response Team. Besides working up to 140 medium custody inmates at the Enterprise cannery and laundry, Mr. Lee also works 112 close custody inmates on horticulture plots. These plots, in which inmates grow vegetables, instill a sense of accomplishment, self-worth and responsibility. Caledonia Farms has received positive, national exposure because of its complex and diversified operations.
Gloria Norris is a personnel analyst and operations manager. She was instrumental in helping her staff move from manual processing to its current automated system. Her operations section is ranked number one in the state with the least personnel transaction errors. Her section is also the only one in the state that has the authority to approve its own personnel transactions. Ms. Norris's expertise in the administration of personnel policies and procedures has made her an extremely valuable asset to managers throughout the department. In fact, she has served as a resource to the office of state personnel in conducting training sessions in salary administration for all agencies. She's a devoted 26-year employee who always gives 110 percent.
Karen Ridenhour is a clerk and stenographer at Cabarrus Correctional Center. Ms. Ridenhour takes on responsibility that normally would be passed on to higher ranking employees. When the new OPUS system came on-line, Ms. Ridenhour volunteered to learn the system. She attended training and developed notebooks for her colleagues to use. She eventually became an OPUS trainer. Ms. Ridenhour has made herself available for officers to call her at home, nights or weekends. She often returns to the prison to assist colleagues who run into problems with OPUS. The result is a group of employees who now are familiar with OPUS and have few problems. Even though Ms. Ridenhour had her hands full at work, she still managed to balance her personal responsibilities. Ms. Ridenhour is a single mother of a teenage daughter who is active in school sports and participates in horse shows throughout the year. The horses are kept at home. While raising an active daughter, Ms. Ridenhour was the primary care giver for a terminally ill mother and grandmother, both of whom died approximately one year apart. Through all of this adversity, Ms. Ridenhour has kept a consistently positive attitude and continues to accept new challenges on her job.
Arthur S. Ross is a lieutenant at Central Prison. Mr. Ross's devotion to the employees at Central Prison is shown through the countless hours spent organizing activities outside the prison. These activities not only help to relieve stress but also allows employees to get better acquainted with colleagues and their families. As chair of Central Prison's Employee Activity Committee, Mr. Ross coordinates an effort to provide food and toys for children at Christmas. Colleagues say that Mr. Ross is always willing to listen, to give good advice, and to provide moral support. With so many decisions to make, people to counsel, and deadlines to meet, Mr. Ross does it all with his head up and a smile on his face.
Alvin B. Saunders is a nurse at Central Prison's hospital. This hospital served a total of 10,000 patients in 1995 and Mr. Saunders was involved either directly or indirectly in their care. He treats every patient the same as he would a family member, making sure that the very best service is rendered. Inmates coming to Central Prison's hospital for the first time may not know what to expect. After meeting Mr. Saunders, they know that someone cares and that they will be treated properly and fairly.
John Taylor is the commandant of IMPACT headquarters. Mr. Taylor founded and developed North Carolina's bootcamp program to instill self-confidence, discipline and the work ethic in young offenders. To date, more than 3,500 trainees have been influenced by Mr. Taylor's leadership and hard work. Thanks to Mr. Taylor and his staff, young men who once had no self-respect or any direction in life have changed and are making a new start. One of Mr. Taylor's many objectives was to provide a way for young offenders to give back to the community while providing a strong work ethic for them. Work projects for surrounding communities have exceeded one and a quarter million man hours with an estimated savings to North Carolina citizens of four million dollars. Mr. Taylor is indirectly responsible for the education of more than 500 young men who earned their GED while going through IMPACT. In an outstanding display of leadership and creativity, Mr. Taylor implemented a policy where trainees would pay for medical care with extra work duty. Local communities have benefited from trainees cutting down trees and making firewood. This program has helped keep 131 families, mostly elderly citizens warm during winter months.