Bridges Promoted to JDM in Mecklenburg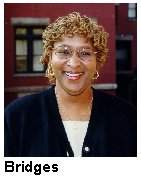 CHARLOTTE _ Phyllis Harris Bridges was promoted to Judicial District Manager in District 26 in Mecklenburg County, effective Feb. 1. Bridges, a 27-year veteran of probation /parole work, replaces James Russell, who retired Dec. 31, 1999.
As the judicial district manager, Bridges oversees 169 staff and more than 8,100 offenders on probation or parole in Mecklenburg County.
"Phyllis Bridges has worked up through the ranks of the Division of Community Corrections and as such, is well prepared to meet the challenge of managing staff and ensuring appropriate effective supervision of offenders in the community," said Correction Secretary Theodis Beck.
A Mecklenburg County native, Bridges began her career with the Department in 1972. Most recently, she has served as assistant JDM since 1995. Prior to that she was a chief probation/parole officer and a probation/parole officer.
She holds a master of science degree in organizational management from Pfeiffer University and a bachelor's degree in criminal justice from the University of North Carolina at Charlotte. She has also completed managerial courses at the Institute of Government in Chapel Hill and courses in criminology and law enforcement at the N.C. Justice Academy.
---
Whitener Named Superintendent at Caldwell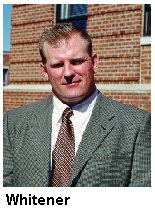 HUDSON — Keith Whitener has been named superintendent of Caldwell Correctional Center, effective March 1.
In making the announcement, Secretary Theodis Beck said, "Keith has proven himself to be a valuable employee and skilled manager in a relatively short period of time. I believe he is quite capable and well-prepared for this promotion and will be a fine leader at Caldwell."
Prior to the promotion, Whitener was a captain at Marion Correction Institution, a position he held for 2½ years. In that role, he was responsible for many special affairs functions, including internal investigations of staff and inmates, security threat groups and all security equipment. Whitener began his career with the Department in May 1987 as a program assistant at Catawba Correctional Center. He later worked as a program supervisor at Catawba. In 1994, Whitener was promoted to unit manager at Marion.
Whitener said he is excited about the opportunity to serve as superintendent at Caldwell. "I'll be working to try to find people's strengths and to build on them. Whether you're in a close custody environment or a minimum custody field unit, our job is people. I'm there to create an environment that will allow people to succeed."
A Catawba County native, he received an associate's degree in business administration from Catawba Valley Community College in 1987. Whitener and his wife, Renee, have two sons, Garrett and Tanner.
Whitener said he is honored to be chosen as the person to succeed Robert Elliott as superintendent at Caldwell. Elliott retired at the end of February.
---
Bass Joins Public Information Office
Bryan Bass is the newest addition to the Department of Correction's Public Information Office.
"Bryan's knowledge and experience are broad-based, having worked in the media as well as with State Government," said Public Information Director Tracy Little. "In addition, his technical skills in the area of website design will enhance our ability to communicate more quickly with citizens."
Bass has more than 10 years experience in writing, editing and design. He comes to Correction from the Department of Environment and Natural Resources, where he worked for six years as a technical writer and webmaster. The bulk of his work at DENR focused on writing, editing and maintaining the department's website.
Bass began his career as a writer at the Spring Hope Enterprise. He has also written for the Nashville Graphic, and the North Carolina Farmer magazine. A Wilson native, Bass holds a bachelor's degree in communications from Barton College (formerly Atlantic Christian College). He is currently pursuing a degree in computer science at N.C. State University.
His responsibilities at Correction include posting items to the website, and writing press releases and articles for Correction News.
In his spare time, he enjoys long conversations with his wife Kristine.
Fellers Chosen to Head Equal Employment Opportunity Office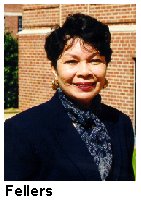 Cheryl C. Fellers has been named the director of the Equal Employment Opportunity/Title VII director for the Department.
"Cheryl Fellers is well-versed in the special attention and training needed to adequately address Equal Employment issues," said Secretary Theodis Beck. "The Department is fortunate to have Ms. Fellers in this most important role."
Fellers came to DOC in November 1999 after having served 11 years with the N.C. Human Relations Commission. During her tenure as a human relations specialist, she investigated complaints of discrimination in employment, public accommodations and housing. Her past experience also includes time with the Department of Human Resources, Division of Aging, and as a unit administrator with the C.A. Dillon Training School in Butner.
Fellers holds a bachelor of arts degree in education from Queens College, City University of New York and is a member of the N.C. Association of Human Rights Workers.
In her new role as director of the EEO/Title VII office, Fellers is responsible for the management of seven EEO officers. The EEO/Title VII office is under the supervision of General Counsel LaVee Hamer.
Fellers said she is pleased to be working with EEO officers with diverse and varied experience. "I plan to partner with managers across the state to address employee and management concerns in addition to effectively and efficiently investigate grievances," Fellers said. "EEO's mission is that all Department of Correction employees have a work environment free from unlawful workplace harassment."
---
Garvey Named to Legal Staff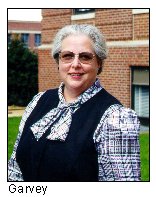 Her name may be familiar to many Department of Correction managers that she's advised through the years. Now, Jane Garvey has joined the Correction staff.
"Jane Garvey is one of the state's foremost experts in the field of firearms training and use of force," said Secretary Theodis Beck. "Throughout the last decade she has been an outstanding defender of the Department of Correction in the courts. She is a fierce advocate for criminal justice professionals and we are pleased that she has joined the Correction team."
Garvey is working as a special assistant under the direction of General Counsel LaVee Hamer.
Garvey worked in the Correction section of the Attorney General's Office for more than 10 years, and prior to that worked in the Wake County Sheriff's Office. A Boone native, Garvey holds undergraduate and law degrees from the University of North Carolina at Chapel Hill.
Garvey said coming to work at Correction is like coming home. "I've spent my career defending the guardians of public safety and coming here hopefully will give me a chance to do that more directly."
When she's not busy poring over General Statutes and case law, Garvey enjoys flying. An avid aviator, Garvey owns a Cessna 182 and is a contributing editor for two aviation magazines.