Retirees Find Life Richer with Part-Time Work
REUP Program Helps Department and Former Employees
By Karen Campbell
DOC Personnel
In every workplace you will regularly hear folks talking about retirement. People plan for the day when 8-hour, 5-day work weeks are behind them and look forward to long, relaxed, I've-got-plenty-of time-on-my-hands days are the norm.
Fortunately, one of the benefits of State Government employment is a defined benefits pension, which enables many employees to retire early. But many retirees choose not to completely forego the work skills and friendships developed over the course of their careers.
Some retirees return to work _ part time _ under the Department of Correction's REUP Program. The Retired Employee Utilization Program was piloted in the summer of 1998 at North Carolina Correctional Institution for Women and Central Prison in Raleigh.
Following a successful pilot, the program was formalized in September 1998. Personnel Analyst Mary Stephenson and I, assisted by Laura Britt, were given the responsibility of introducing, developing and operating the program. Every employee who files retirement paperwork receives a letter describing the REUP Program. They also get a form to complete and return to DOC Personnel indicating their areas of interest.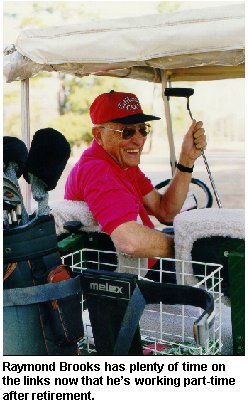 Personnel staff maintain a database of retirees interested in working part-time and regularly circulate retiree lists sorted by county to promote the retiree workforce. Generally part-time positions are considered temporary positions and are funded by working the positions against unfilled permanent full time positions that are vacant.
Faced with the challenge of recruiting correctional officers during a time of low unemployment, the REUP program is one tool superintendents use to meet staffing needs. If a former Criminal Justice certified employee returns to part-time employment within one year, the certification can be reinstated allowing the employee to work any assignment within a correctional facility.
Former custody staff whose certification cannot be reinstated can work as security officers and can be assigned to some posts within a unit.
The REUP Program is not limited to former custody employees. Joey Jones began her career with the Department of Social Rehabilitation - eventually renamed Correction - in January 1962. During her career in DOC Jones also raised a daughter, Mary Mac. Jones retired from full-time work in Personnel in June 1997 with 32 years of service. "My grandson Zack was born in September 1995 - about two years before I retired," Jones says. "I used to think to myself `when I retire, I'm going to keep my grandson and help my daughter when she needs me.'"
Jones now works about 20 hours per week in DOC Personnel and spends the rest of her time doing things she likes to do.
"My 87-year-old Aunt Mary and I run errands and have lunch each week. I get to accompany my husband Don on business trips that I had to miss previously. But the best part of my retirement is spending time with my grandson Zack and my granddaughter Lindsay." Jones' daughter calls her mom for help when the kids are sick or have doctor's appointments and Jones is happy to help out.
Retired custody employees don't always return to part-time custody work. Raymond Brooks retired from Central Prison in July 1999. The former sergeant now works part -time at the Raleigh Regional Employment Office doing administrative work and traveling to proctor pre-employment tests in nearby counties. Brooks also plays golf _ lots of it.
"Between my Social Security check and my retirement, I bring home about $100 more each month than I did when I was working full time," he said. "I have more money, more time, and am having more fun than I ever did _ plus I work part-time with a great group of people."