Ward Connects Inmates' Families, Resources
As a social worker at Raleigh Correctional Center for Women, Mary Ward has been connecting offenders' families with available resources for more than decade. In her new role as family services administrator with the Office of Citizen Services, she's getting a chance to expand her connections across the state.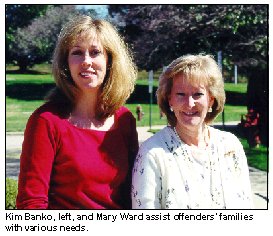 Ward, who holds a bachelor's degree in social work from Meredith College in Raleigh, was name to the position effective Feb. 1. In her new role she is responsible for developing programs and services for offenders' families.
"Mary comes to Citizen Services with a strong background in social work and knowledge of the state prison system," said Assistant Secretary Gregg Stahl, who supervises the Citizen Services office. "I have great confidence that Mary's ability to network and develop meaningful services will lift the Family Services section to a new level."
Ward served as a social worker at RCCW for 12 years. During that time she was responsible for individual and group counseling sessions, resource referral, preventive/crisis intervention, family/child services and specialized case management for developmentally disabled offenders.
Ward said the new position presents a set of exciting and challenging opportunities.
"I feel the Department should do what it can to support these families. Every offender is part of a family," Ward said. "While incarceration can be difficult for the offender, it can be emotionally, socially, spiritually and financially devastating to families and children."
Ward is joined in the Offender Family Services Section by Kim Banko, who assumed the family services specialist position Feb. 1. Banko previously served as office manager for the Office of Citizen Services, and prior to that worked in an administrative capacity with the Chief of Security's office with the Division of Prisons.