Staff Honored for Floyd Evacuation Efforts

RALEIGH –

The heroic efforts of more than 250 bus drivers and other correctional staff during Hurricane Floyd were recognized April 10 at a ceremony at the State Fairgrounds.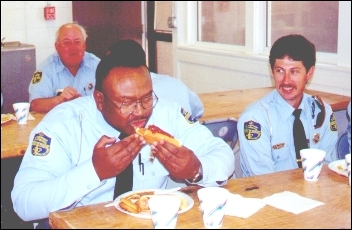 Officers Luby Atkinson, left, and Bobby Radford of 
Johnston Correctional Institution enjoy hot dog lunch. 
Staff members from 42 state prisons throughout the state were recognized. Each received a letter signed by Governor Hunt, a certificate and a commemorative picture. They were also treated to a hot dog lunch.
"Instead of hot dogs we should be giving you steaks, instead of certificates, we should be giving you bonds, but financially we cannot," said Deputy Secretary Dan Steineke. "There's nothing we could do to match what you did."
From Sept. 14 through Sept. 21, more than 3,000 inmates were transported out of the flood-ravaged areas to facilities in the central and western part of the state. Inmates were moved from six state prison units – Wilmington Residential Facility for Women, Franklin, Tillery and Wayne Correctional Centers, and Nash and Neuse Correctional Institutions. The Department of Correction also evacuated county jails in Dare, Pamlico, Beaufort, Nash, Lenoir, Pitt and Edgecombe counties. Probationers assigned to the DART Cherry program in Goldsboro were also evacuated.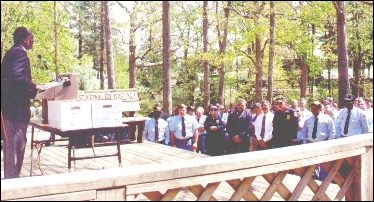 Division of Prisons Director James French thanks correctional staff for their assistance during Hurricane Floyd.
"We made history in this department because we evacuated more people than ever before due to a natural disaster," said Division of Prisons Director James French. "You did it with pride and you did it with dedication."
The majority of inmates were returned to their original locations by the end of September, although it was mid-October before offenders previously housed at the Edgecombe County jail were returned to that location. Many of the staff will never forget just how difficult it was to navigate the flooded highways and roads trying to reach their destinations. "There was water everywhere," said Correctional Officer P.K. Bowen of Odom Correctional Institution. "It looked like the Atlantic Ocean."
Several officers commented on the teamwork displayed during this crisis. "Inmates and officers all stayed together," said Correctional Officer William Davis of Tyrrell Prison Work Farm. "No one complained, you just can't beat it."
Lead Officer Gaston Collins of Hyde Correctional Institution transported Eastern Region Director Joe Lofton and other staff members throughout Wayne County to the command center set up during at Eastern Correctional Institution in Maury. "We had bridges wash out from under us," said Collins. "I saw a man in a van overrun a barricade and drown. Giant oak trees floated by our bus nearly crashing into it. People were afraid because they had never seen anything like it."
---