DOC Continues Hurricane Floyd Recovery Efforts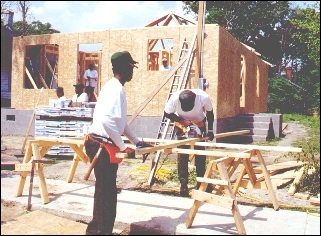 Community Work Crew prepares lumber for Hurricane Floyd Recovery Project.
By Pamela Walker
KINSTON – It won't be long before two families whose homes were destroyed by Hurricane Floyd have a new place to live, thanks to the continued efforts of the DOC to assist with the redevelopment of eastern North Carolina.
Inmates at Piedmont Correctional Institution in Salisbury built wall panels for the homes that were transported to the construction site. Community Work crews from Neuse Correctional Institution in Goldsboro and Greene Correctional Center in Maury are erecting the walls and sheeting, setting the roof trusses, as well as completing various interior tasks on the two homes, one on Washington Street and the other on Heritage Street in Kinston.
The housing project is a joint effort between the DOC, the N.C. Division of Emergency Management and the city of Kinston. "This partnership has been great," said Mayor John Mosley of Kinston. "I think the community will directly benefit from this project and the inmates' skills."
"It's a win-win situation for the community and the Department of Correction," said John Blalock, special assistant to the director of prisons and project coordinator. "The flood victims get a solid new house and the inmates develop a skill they can use when they're released."
Inmates assigned to Community Work crews are in minimum custody and are screened prior to being placed on jobs outside the prison facility. It is anticipated that the two houses will be completed by the end of May.
---