Carteret Holds Town Meeting
By Bryan Bass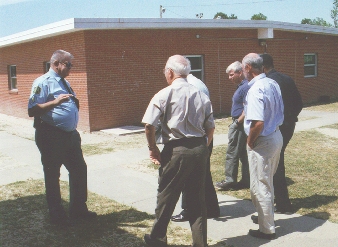 Sgt. Larry Norlin (left) talks with attendees of Carteret's "Town Meeting."

NEWPORT —

Town leaders and officials gathered May 15 at Carteret Correctional Center for a "town meeting" to discuss the positive aspects of inmate labor.

Carteret Supt. Duncan Daughtry said he hoped the "Corrections as a Community Resource" meeting would help to dispel the myth that inmates do not work. In his opening remarks, he said "Contrary to popular belief, inmates do work and have worked since the North Carolina Constitution was rewritten in 1868 establishing a state penitentiary."

Daughtry said his facility alone provided Carteret, Craven, Onslow, Jones and Pamlico counties with inmates who worked more than 59,900 hours last year. This inmate labor, he said, saved Carteret and surrounding communities more than $270,700. Carteret inmates work many jobs including hurricane debris removal, painting, cleaning ditches and cutting trails for state parks.

Alliance Mayor Mike Cuthrell said the inmate labor though the Community Work Program makes a big difference to small towns with small budgets. He said some towns could not afford to have the work done if they had to pay full price for the labor. "They're doing a splendid job," Cuthrell said.

Others had similar words of praise for the Community Work Program and the contributions of Carteret's inmates. "We need to keep this program going," said former Cape Carteret Mayor Lyle Staples. He said some in his area had previously expressed concern about inmates working in their community. "They are now asking 'When can we get them back?'" Staples said.

Emerald Isle Mayor Pete Allen said, "Without their help, we'd still be cleaning up from six hurricanes in four years." Minnesott Beach Mayor John Gillikin was also grateful for inmate labor following hurricanes. Daughtry said that if more hurricanes strike, "We'll be ready to mobilize."

After the meeting, Daughtry said, "We are a small unit, but we do a lot for the community. I want people to know that." Carteret held its first town meeting in 1998, and Daughtry said he might consider holding another.

Among those in attendance were James French, director of prisons; Joe Lofton, DOP Eastern Region Director; and State Reps. Jean Preston and Ronnie Smith.
---