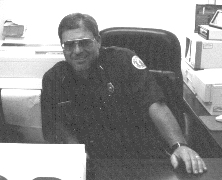 Lt. Baron Terrell has been with the fugitive section for nearly 18 years. He is transfer terminal manager, supervises the fugitive squad, handles his own bloodhound, and assists with investigations.
Spotlight on
Piedmont Region Fugitive Section/Transfer Terminal
By Pamela Walker
KERNERSVILLE – One of the Piedmont Region Fugitive Squad's primary duties is to manage the bi-weekly inmate bus transfer and it's clear they've got it down to a science. On Tuesdays and Thursdays every week the seven-man team oversees the transfer of anywhere from 300 to 500 inmates from all over the state.
"Last year we handled the transfers of about 42,000 inmates and since I've been here it has gone up every year," said Lt. Baron Terrell, bus terminal manager. Correctional officers drive the buses with the inmates to the bus terminal from all of the state prisons for their transfer to another facility. The officers plan their departure times from their prisons to arrive around the same time at the terminal and they unload the inmates into a holding area. Then the drivers sort out the inmate paperwork into bins designated for their destinations. When that's complete and the officers have organized the inmate belongings, they load the inmates onto the buses headed for their new assignments.
"Other states have come to observe our system," said Sgt. Ricky Allen. "On average we transfer 400 inmates, but our record is 716 inmates." Both Lt. Terrell and Sgt. Allen say in the more than 18 years they've been on the team they have not had an escape.
When they're not managing the inmate bus transfer, the fugitive squad handles a team of bloodhounds for tracking escapees, conducts investigations and stakeouts following escapes, and responds to local sheriff's departments needing assistance locating missing persons. "The most rewarding part of my job is when we help find someone, whether it be an elderly person or a child," said Lt. Terrell.
The squad has seven dogs that stay with them all the time, one for each member, as well as a puppy in training. They also breed and train their own bloodhounds and help with training other dog handlers in search procedures.
Officers Chris Gardner (top left), Tony Wray (top middle), Dale Robertson (top right), and David Sells and Johnny Brandon (left) handle their own bloodhounds and assist with investigations and inmate transfers.
Sgt. Ricky Allen (left) has been with the fugitive section for 18 years. He is supervisor at the bus transfer terminal, handles his own bloodhound, assists with investigations, and is a certified instructor in firearm and in-service training.

Nurse Nancy Walker (right) from Guilford Correctional Center helps out on inmate bus transfer days by dispensing medications and handling medical emergencies and sick calls.

Inmates' belongings are sorted and loaded on appropriate vehicles.
Buses head back to prison assignments.
---