State Honors Employees Who Gave Their Lives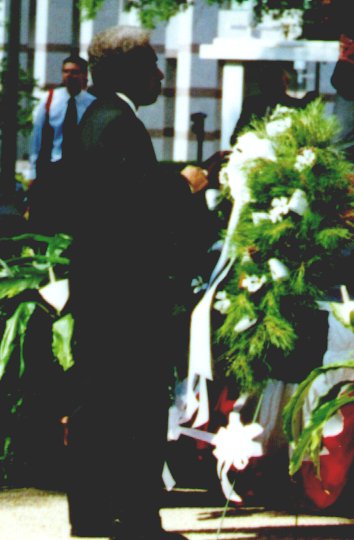 Secretary Beck places pin on State Employee Memorial wreath.
RALEIGH- Under sunny skies at the State Capitol, 11 Department of Correction employees were among those honored at the First Annual North Carolina State Employee Memorial Ceremony May 31. Families, friends and co-workers paid tribute to the lives of employees who died in the line of duty.
"Their deaths are senseless tragedies," said Secretary Theodis Beck. "We want the families to know of our sincere respect for their service for the citizens of North Carolina and our deep regret for their loss."
Two members of the Department Honor Guard led off the ceremony on the statehouse lawn in the presentation of colors. A bagpiper and the families of those who died followed. From those who worked in the fields of criminal justice to transportation, speakers at the memorial service echoed the importance of every employees job.
"They gave their lives working to make North Carolina a better place to live," said Governor Jim Hunt. "That makes them heroes in my eyes."
Secretary Beck placed an agency memorial pin on the wreath in honor of Correction employees and their loyal service. Governor Hunt placed a pin on the wreath in honor of employees who were not named at the memorial service.
A total of 181 employees were memorialized during the ceremony that was directed by the Office of State Personnel.
---