Staff Gets Pumped Up About Wellness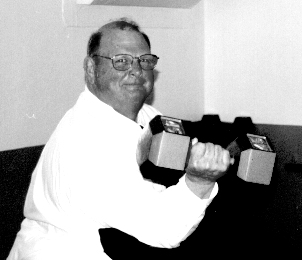 Supt. Larry Snead is among the wellness room's most frequent users.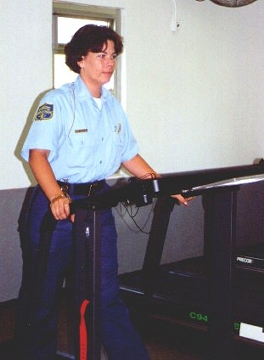 Correctional Officer Jamie Buffkin gets in some valuable minutes on a treadmill.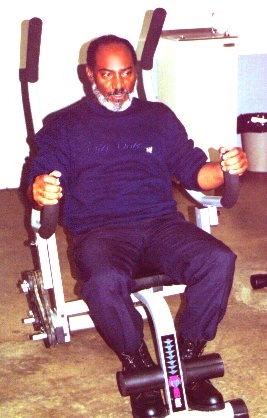 Leroy J. Shepard keeps fit through regular workouts in the wellness room.

By Tracy Little

WILMINGTON –

Staff at New Hanover Correctional Center are pumping up and getting fit, improving their bodies, minds and morale in the process.

The facility's wellness room has become a catalyst for change at the minimum-custody unit. Employees are using lunch hours, break times, off days and hours after shifts to get in shape.

Inspired by a previous article in Correction News, Supt. Larry Snead and other staff started their own wellness program last spring. Their first effort? They measured the perimeter of the Department of Transportation building next door and started a walking club. Snead also contacted a local gym about the possibility of extending discounts to the employees, but found the cost was still prohibitive for most Correction employees.

As the weather turned cooler, the walking group found fewer good days they could get out and exercise. At the same time, the facility was undergoing some physical changes that freed up space on the third floor of the oldest building on the grounds. With the help of many hours of labor, two fund-raisers and donations from employees, the wellness room opened in early December with three pieces of equipment.

Today, the room boasts nearly 30 pieces of equipment - everything from treadmills, weight benches, stationary bikes to a ping-pong table. The wellness committee accepts donations, assesses the room's needs and often trades in duplicate equipment at a local resale shop and purchases needed items.

Snead says the reaction from staff has been impressive. "We've had people in here, including me, that you'd never think would be involved," he said, adding that he's lost more than 60 pounds over the last several months.

Some folks like Snead are beginning to incorporate exercise into their daily routines, while others have been working out for years. All agree that having the wellness room available at no cost and so convenient makes it easy to get in shape.

Leroy J. Shepard said one of the biggest benefits is that there is equipment anyone can use. "It's not about bodybuilding or about competing. People can come up here and do five, 10 or 15 minutes a day, as long as they're consistent," said Shepard, a program supervisor. "Once they start doing it, they start making the time."

Sgt. Gordon Stone, who's been with the state for 28 years, said he previously belonged to a gym but hadn't worked out regularly. Now, he's working one to two hours a day and has lost 30 pounds. "I feel a whole lot better and have a lot more energy," Stone said.

The wellness room isn't just for male officers and staff. Correctional Officer Jamie Buffkin said she works out about a twice a week, usually on a treadmill or bike. "I think it has really helped the morale of the employees. It's brought us all together and really encourages teamwork," she said.

While the atmosphere is relaxed, there are always some people who may not feel comfortable working out with equipment. Snead and his wellness committee have an answer for those people as well. Ping-pong. It may not seem like exercise, but it really does give you a workout, said Lt. Randy Rivenbark who said he plays about twice a week, in addition to working out with the other equipment. In April and June, they held ping pong tournaments.

Program Assistant Lonnie King summed up the benefits having the wellness facility available to employees. "I believe that exercising the mind, body and spirit leads to better job performance. It's been a positive experience all the way around."
---