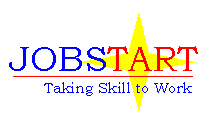 ---
PROGRAM DESCRIPTION
JOBSTART is a targeted approach to prison-to-work transition planning for a select group of inmates at five units within the North Carolina Division of Prisons.
JOBSTART has five major components:
JOBSTART Competencies (Skills):
JOBSTART competencies are a list of key knowledge and skills inmates need to make a successful transition from prison to work. The competency structure is flexible enough to be implemented through a currently offered class, a newly created class, or other guidance/support settings. Local units have determined the implementation option(s) that best fit the needs of the inmates and the resources of the unit, based on established standards.
Inmate Portfolio System:
The Inmate Portfolio System is a set of key documents, information and plans inmates will need to make a successful transition from prison to work. The system includes an inmate portfolio and a pocket portfolio which participants will have upon release.
Program Manual and Resource List:
The Program Manual and the Resource List provide information and community contacts to assist DOC staff in their efforts to help inmates make a successful transition from prison to work. The manuals will be made available to interested staff, regardless of involvement in the JOBSTART pilot project.
Unit Transition Teams:
Transition Teams are groups of unit administrators and staff who will plan, implement and/or support the JOBSTART PROGRAM at the unit level. These teams have been established at the pilot sites, and they have been actively involved in the development of the JOBSTART program.
Case Management Integration:
Case Management/Transition planning is a well-established component of the Division of Prison's current programming efforts. Integration of JOBSTART into current and future case management protocols will provide structural and organizational continuity to the JOBSTART program and to inmates' overall transition-planning efforts.

A graphic representation of the JOBSTART program is provided below: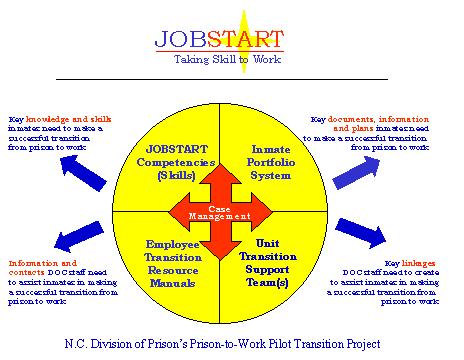 JOBSTART SITES
The following facilities are the JobStart program sites:
Morrison Youth Institution
Raleigh Correctional Center for Women
Polk Youth Institution
Western Youth Institution
JOBSTART is an initiative of the Educational Services Section of the North Carolina Division of Prisons, Raleigh, NC (919) 838-3643.
---
This Web Site Maintained By:
North Carolina Department of Correction
Division of Prisons
Operational & Technical Support
Mail Service Center 4289
Raleigh, NC 27699
Phone (919) 715-6787
Fax (919) 715-6346
E-mail Web Editor: modom@doc.state.nc.us
This page last updated on 04/10/2012 .
"© 1999 North Carolina Department of Correction. All Rights Reserved."