In 1992 correspondence with Manly Jail works, Superintendent Fred Watkins received a copy of the following ad.
MANLY PORTABLE CONVICT CAGE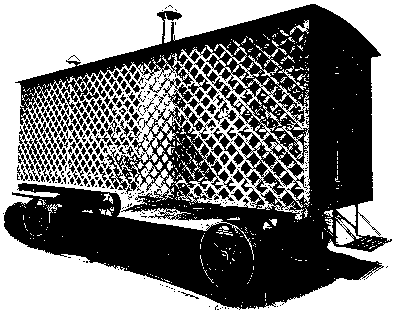 18 Capacity--Size 7'-4" x 7'-4" x 22"--Net weight, 6,500 lbs. 4 to 6 mules.
The 18 Capacity Cage with Side Curtains off--Same Cage as the 12 capacity, except with one more compartment--Mounted on 2 1/2" solid steel axles and 2,500 lb., 5th wheel, all-steel truck with 32" wheels and 10" tires--The broad tires and superior construction of truck make the Cage easily transportable. A bucket of disinfectant once or twice a month and a bucket of paint once a year will keep this Cage clean, sanitary and vermin proof.
OFFICIALLY ENDORSED BY STATE AND COUNTY PRISON BOARDS
ALL OVER THE SOUTH
Old Prison Cage Donated to DOC
Old Prison Cages at Alexander and Yadkin Prisons