N.C. Department of Correction--Correction News--May 1997
Bryant Named DOP Volunteer of Year
Raleigh -Joseph Arnold Bryant, one of the founding fathers of the Caledonia volunteer movement, has been named Volunteer of the Year by the Department of Correction.
"I commend Mr. Bryant for his unselfish support and tremendous dedication which spans three decades," said Correction Secretary Mack Jarvis during an April luncheon honoring prison volunteers.

Bryant, who teaches Sunday School and leads Bible study at Caledonia Correctional Institution in Tillery also volunteers at Odom Correctional Institution in Jackson. When an inmate raises a personal concern, Bryant listens and quickly finds the link between the inmate's concern and the scripture under discussion. He then shows the whole group their stake in that concern and skillfully brings the conversation back to the scripture lesson.

Joseph A. Bryant (center) is congratulated by Prisons Director Dan Stieneke and Correction Secretary Mack Jarvis following Bryant's selection as Volunteer of the Year.
" Roanoke Rapids resident, Bryant is a mentor for several rookie volunteers. His presence takes the edge off their initial concerns about being in a prison. ABryant's guidance and assistance with new volunteers are like sowing seeds that will bear fruit for many years to come," said Henry Gregory, a chaplain at Caledonia.
Bryant was one of eighteen volunteers nominated for Volunteer of the Year in the Division of Prisons. Others recognized during the luncheon included: Harvey Duningham Barron, Foothills Correctional Institution; Virginia Wright Buchanan, Black Mountain Correctional Center for Women; Karen Campbell, NC Correctional Institution for Women; Daniel H. Cottrell, Haywood Correctional Center; Benny M. Church, Forsyth Correctional Center; Ernest Dansby, Craggy Correctional Center; Dexter Patrick Gibson, Sr., Southern Correctional Institution; Douglas W. Goforth, Iredell Correctional Center; Kenneth H. Griffith, Jr., Cabarrus Correctional Center; Simeon Khan Heninger, Orange Correctional Center; Maryella Ward Leigh, Currituck Correctional Center; Thomas E. Olliff, Jr., Alamance Correctional Center; Joyce A. Schaub, Goldsboro Correctional Center; Pannie Smith, Harnett Correctional Institution; Robert Edwin Smith, Morrison Youth Institution; Mack Junior Sowell, Johnston Correctional Center; Fran Sholar Wheeler, Columbus Correctional Institution.
Inmates from Wake Correctional Center sang two moving songs (Sending Up My Timber and Walk This Road of Glory) for the volunteers.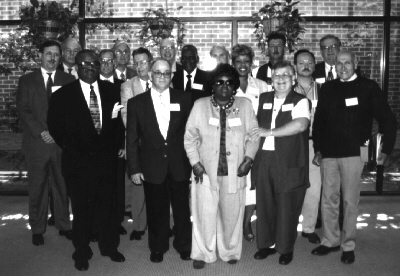 NC DOC Correction News - May 1997
NC Department of Correction News
NC Department of Correction Homepage