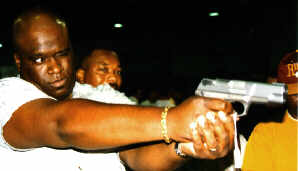 Sandhills YC Sgt. Darrin McNeil gets
the feel of a 9mm automatic at the first
Firearms Training Conference.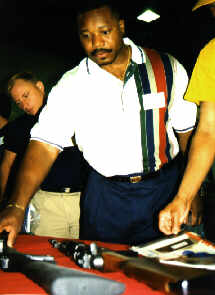 Polk YI Capt Ray Raynor gets a closer
look at a 308 sniper rifle.
"It's been a long time coming," said Raymond Clark, a captain at Piedmont Correctional Institution. "Not all the trainers have been dancing off the same sheet of music, and this really helps."

Chief of Security for the Division of Prisons, Charles Stewart, one of the conference speakers, said that in the times of doing more with less, the department is coming out ahead. He used the example of the need to carry four handcuff keys before equipment became standardized, and what a nightmare that used to be.

Stewart said that in the state of North Carolina, the Department of Correction is second only to the U.S. military in fire power.

The Division of Prisons owns 6,000 firearms including mini-14 rifles, two sub-machine guns and 39 sniper rifles. He said companies are beginning to realize that the department is a bigger user of firearms than any other law enforcement agency.

Those vendors turned out to show their wares at the conference.

Another speaker, Bill McBlief of the Attorney General's Office, talked about potential lawsuits. The most successful cases that plaintiffs have won against the department were, "negligent failure to train."

"You, as instructors, have to be hardened professionals such that when you are teaching, you have to have your teaching hat on," McBlief encouraged. "If he ain't getting it, don't certify him. If you're not completely satisfied, don't let him carry a firearm if you have doubts."

McBlief said trainers are afraid of being hated for being tough, but instead they'll actually be respected.