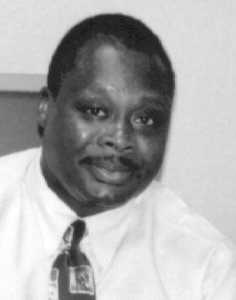 Jay Clark,
Southern Correctional
Institution superintendent
Clark 1 :28 seconds .wav
Clark 2 : 27 seconds .wav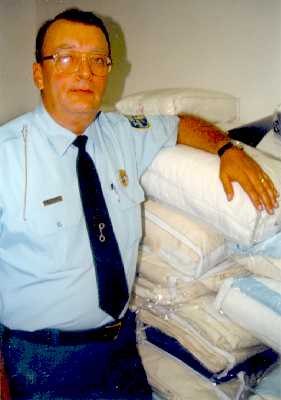 Officer Mike McIntyre with
prisoners made blankets.
McIntyre :14 .wav
TROY – Southern Correctional Institution prisoners are turning donated scrap cloth into blankets, school mats and art class smocks that are used by emergency shelters and local schools.

"We've made as many as 127 blankets in a day, but we usually turn out two to three dozen," said Correctional Officer Mike McIntyre who supervises the blanket program. "The number of blankets we can make is based on the scrap cloth we receive."

The prisoners search through 350-pound bales of scrap cloth saved for the project by Chatham Manufacturing Industries of Elkin. They sew the cloth into blankets, then fold and package the blankets in clear plastic bags, tagged according to size and stored for delivery. Inserts let people know the blankets were made and packaged by prisoners and credits Chatham Manufacturing for their donation.

"This work gives the prisoners a chance to give something back to the public and to help kids," says McIntyre. After working as a correctional officer for 16 years, this is his first time working in textiles. "While the sewing machine operators had some experience, they've all been learning with me," McIntyre said.

The blankets are clean, fire-retardant, 100 percent cotton or poly-blends. More than 250 blankets were provided to the Greater Albemarle Chapter of the Red Cross when Hurricane Bonnie threatened North Carolina earlier this year. In a letter of thanks, Bryan O'Leary of the Red Cross wrote that the blankets were used in all five shelters they opened.

While the program was developed with the idea of providing blankets to emergency organizations, the prisoners have tackled a number of jobs for local schools and agencies such as the housing authority, social services and homeless shelters.

"We went to the school and showed them a sample of what we could make," McIntyre said. "They immediately asked for 30 mats." McIntyre said they also offered to make ponchos for the school. Minor modifications to the sample poncho resulted in the creation of smocks for art class.