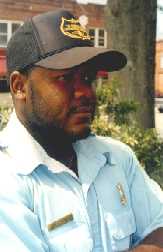 Officer Wilson
Comment
11 seconds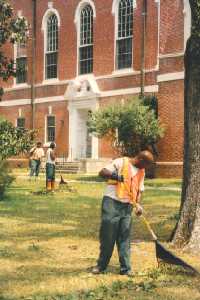 BURGAW - Two days after hurricane Bonnie filled ditches with water and filled yards with tree limbs in Burgaw, two prison work crews arrived to help clean up.

In the center of Burgaw is the courthouse and its square is filled with downed tree limbs and debris. The grounds are being cleared by a crew of nine inmates from the minimum security New Hanover Correctional Center in Wilmington. Its one of the first prison work squads where several inmates have been trained to use chain saws. Correctional Officer Allen Wilson says they're needed to remove the larger limbs knocked down by the storm.

"We've been taking the trees that were down, cutting them up and stacking debris on the town truck to be taken away," said Wilson, who lives in Burgaw and has been without electricity since the storm arrived Wednesday.

A large tree limb snapped off an oak at the back of the courthouse. One inmate limbs it up with a chainsaw, while a second pulls away the debris. Around the courthouse other inmates rake and gather leaves and smaller downed limbs into piles that can be shoveled on the truck and hauled away.

Several blocks away another crew from New Hanover Correctional Center finishes work at the municipal building using leaf blowers to clear the parking lot. They drive several blocks over to Harrell Park where the children's playground is littered with fallen limbs. A large lays haphazardly on a fence near playground equipment. In less than an hour, the inmate work crew has cleared the debris onto a town truck and swept the parking lot, erasing the storm's mark from the play area and tennis court.