Old Fort - State prisoners are spending time at the Old Fort police department. This time, they're not being booked. They are revamping the offices and building an extension for the 11-man police force. Officers have worked out of cramped quarters for years and are glad for the arrival of the inmate labor force.

Ten inmates from a nearby prison have been laying concrete blocks, cutting and raising beams and joints, hanging and finishing sheetrock, and doing all the carpentry work for the new police department.

"We couldn't have afforded it otherwise," Mayor Wayne Stafford said. "Our costs have been $50,000 to supply the material. The inmate labor has saved the town more than $100,000 in labor costs."

That savings means a lot to the town's 1200 citizens, nestled in the mountain foothills. Old Fort, the furthest western outpost in 1776, doesn't have a major crime problem. A murder over a property dispute was the first for the town in ten years. Most of the crimes Police Chief Frankie Poteat sees are vandalism, petty theft and drugs. Yet the crimes are diverse. Outside Poteat's office are juxtaposed two flyers, one of Muffin, a lost terrier and, the other, a sketch of Eric Rudolph, the suspected bomber of an Alabama abortion clinic. With such a wide spectrum of concerns, Poteat is happy to finally get more office space for her police force and she said the inmate labor has been wonderful.

"Their work has been excellent," Poteat said. "We couldn't have done it without them. There's always someone in the group who knows how to do whatever needs to be done. They've done a super job. I am very impressed."

One inmate, modest about his work, said, "If you can read a level, you can hang a door." Another, when asked how he felt about building a police department said it didn't matter, "It all pays the same --- 70 cents (a day)."

The inmates are part of the Governor's Community Work Crew and are housed at the Marion Minimum Security Facility. The inmates will work construction of the new police department for two weeks at a time, taking other projects during off weeks. In between time, plumbers and electricians do their work.

Marion prison's Sergeant Perry Franklin said the inmates do such good work, the joints can't be seen in the sheetrock.

"People are amazed the inmates can do that kind of work and do it so well," said Franklin. "Some contractors will do the job as quickly and cheaply as possible, while the inmates take the time to do the job right."
-pmc-
Editors note: Inmates will be working at the Old Fort Police Department again October 12-16.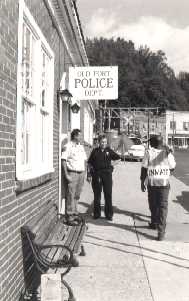 Prisoners from Marion Correctional
Institution put to work for Old Fort police.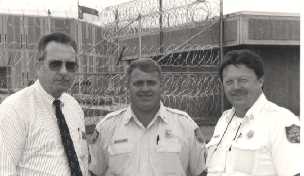 Superintendent Dean Walker, Sgt Perry Franklin and
Capt. Johnny Poteet of Marion Correctional Institution.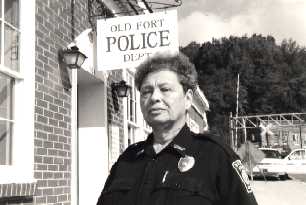 Old Fort Police Chief Frankie Poteat