North Carolina Department of Correction News - June 1999
Odom volunteer receives top honors
RALEIGH — Calvin Mack Bradley of Roanoke Rapids was selected as the 1998 Volunteer of the Year for the Division of Prisons during an awards luncheon held April 20. Twenty volunteers from across the state were honored during the luncheon for their outstanding contributions to the department.
A volunteer at Odom Correctional Institution in Jackson, Bradley was selected as the 1998 Volunteer of the Year for his more than 30 years of service as a volunteer at Odom.

"Mr. Bradley is one who gives unselfishly of his time and love to Odom Correctional Institution and the inmate population," said Alma Hux, assistant superintendent of programs at Odom. "He has steadfastly devoted countless hours of hard work to the volunteer program at Odom. Mr. Bradley holds the conviction, along with all our volunteers, that no prisoner is beyond the reach of God's love and concern."

A primary force in the development of Odom's volunteer program, Bradley began volunteering at the prison as a scripture reader for worship services and later became a worship and music leader.
Over the years, he has recruited churches to sponsor Christmas gift bags and individuals to join him in conducting worship services at the facility and arranged for the donation of Bibles.
He also coordinates the Tuesday Bible study and two Sunday worship services each month, making the 40-mile round trip from Roanoke Rapids each week.
"Mr. Bradley is to be commended for his 30 years of dedicated service to the Department of Correction," said Correction Secretary Theodis Beck. "With more than 32,000 inmates incarcerated in our prisons, the services provided by all our volunteers are greatly needed and appreciated."
Others recognized during the luncheon included Donald Bickel, Central Prison; Howard Blackburn, Wilkes Correctional Center; George William BonDurant, Currituck Correctional Center; Patience Soper Brumley, Western Youth Institution; Rev. Charlie Bryant, Wayne Correctional Center; Kenneth H. Griffith, Jr., Cabarrus Correctional Center; Roy Jones, Dan River Prison Work Farm; Margaret Kornegay, Johnston Correctional Institution; Rev. Lenard Latimer, Morrison Youth Institution; Rev. Marcellus Leach, Neuse Correctional Institution; William Penn, Sr., Forsyth Correctional Center; Lee Etta Pulley, Fountain Correctional Center for Women; Hubert Riddick, Caledonia Correctional Institution; Franklin Sanders; Sandhills Youth Center; Barbara Sawyer, N.C. Correctional Institution for Women; Fred Stafford (deceased), Charlotte Correctional Center; Rev. Wayne Kenneth Wellmon, Union Correctional Center; Betty West, Harnett Correctional Institution; and Laura Gordon Williams, Black Mountain Correctional Center for Women.
More than 6,400 individuals volunteer throughout the Division of Prisons each month. In 1998 alone, volunteers donated 276,326 hours of their valuable time helping others in the prison system.
The annual Volunteer of the Year awards program strives to honor these volunteers and recognize their outstanding contributions to the department.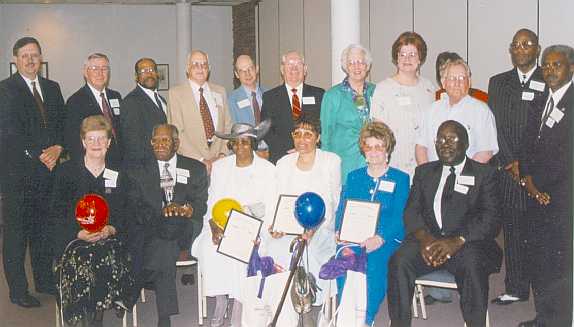 ---