Anyone planning to send mail to DOC offices located in Wake County after July 1 will have to use a new address or risk a major delay in the processing of the mail.

Starting this month, instead of using the old Post Office Box number to send mail, those sending mail to offices in Wake County will have to use a new Mail Services Center Box number and a new nine-digit zip code. This change in addresses results from the creation of a new centralized mail service, the Mail Services Center (MSC), run by the Department of Administration.

Now instead of having individual mailrooms for the various state government agencies located in Wake County, all state mail will be handled by the new MSC.

"The Department of Administration convinced the governor that they could save the state $1.3 million by eliminating mailroom positions for each agency and having all the mail processed in one centralized location," said Larry Rhodes, director of purchasing for the department.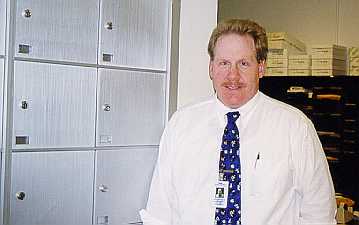 Ken Friend, DOC's new mailroom manager
DOC's mailroom at Yonkers Road underwent a reduction in staff from seven permanent positions to two, but did not shut down completely. Under the direction of Ken Friend, DOC's new mailroom manager, the DOC mailroom will still be available to handle bulk mailings such as memos and other items being sent out to all DOC units and offices. In addition, the DOC mailroom will also continue to pick up the mail sent to Central Prison via the transfer buses and will be available to pick up any piece of mail requiring special attention that must be sent out right away.
As part of the changeover, Rhodes said that it is imperative for all impacted offices in Wake County to include their new MSC number and nine-digit zip code on all return address labels and letterhead. However, he said when ordering supplies, offices in Wake County should continue using their street address to ensure proper delivery.
Any mail being sent via the U.S. Postal Service (USPS) as certified, express or registered by Wake County offices should be placed in front of all other outgoing mail. This type mail should be identified by attaching a check-off form or certified sticker that will be provided by MSC.
Rhodes said the changes in the mail service will mainly affect the processing of USPS mail and should not affect the sending or receiving of overnight deliveries such as Federal Express or UPS. For overnight services, he said Wake County offices should continue using their regular street addresses.
"The conversion to a centralized mail operation will be a challenging process, so all involved are not only asking for cooperation, but also patience," Rhodes said. "There will be other changes in how the mail is processed and the MSC and the DOC mailroom will strive to keep everyone abreast of these changes. The result should be a better way to process mail and, at the same time, produce cost reductions for all involved parties."
For questions about the new mailroom service, call Ken Friend, DOC mailroom manager, at 919-716-3250 or Gene Benfield, director of the MSC, at 919-733-2913.