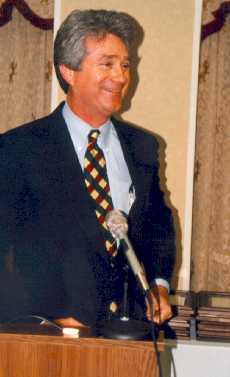 Franklin Freeman, Chief of Staff
to Governor Hunt
and former
Secretary of Correction
Franklin Freeman, former Correction Secretary
Mack Jarvis, former Correction Secretary
I am delighted to be here with you. This warms me so much, as Theodis said to see the fruits of this first class. You all heard of the movie, Driving Miss Daisy and perhaps have seen it. Well, when I was driving Mr. Jarvis (laughter) ...as he and I would go from retirement to retirement of superintendents and then probation and parole division directors or chief probation parole officers and we would look and they would have 30 and 35 years experience and we were ticking them off it seemed like every two or three weeks, we began to talk about what a heck of a mess the department was going to be in one of these days if a new crop of leaders was not developed. That was when correction was then on the cusp of being the largest department in state government. When Mack and I came in 1993, there were 13,000 employees. When I left after four years there were 17,000 employees. I looked today and there are almost 19,000 employees and the department is still growing and will continue to grow.
We looked and saw the growth that we knew was coming and was going on then. We rode and talked. As Mack talked about some of these people he had served with whose retirements we were going to, he would talk about how in the late 1960s, he came to Raleigh when Lee Bounds was director of prisons to a course that Mr. Bounds had started. As he ticked off the names of the people who were in the class with him, they were the people whose retirements we were attending. So you could see them, dropping off and there had been no follow up. Nothing to occur afterwards because once Mr. Bounds left, it ended. Whoever followed did not see the worth of it and did not continue it. And we talked about how we ought to have something like that and we ought to institutionalize it so it will continue regardless of who the secretary is.
I left. About all we had done at that point was talk. We had talked enough with the Institute of Government that we had decided to get Joe Chandler to work with OSDT and with the Institute to develop the program. And then I left. To the everlasting credit of Mack Jarvis, he kept the flame alive and as a result of his pushing to get it done, to get the money, you are here today. So Mack, thank you. (applause)
It's a proud day for all of you. For the parents. Those of you that know me, know that I have six children. I've been going to a lot of graduations. I have a lot more to go to. (laughter) I've got a fifth-grade one tomorrow and an eighth-grade one tomorrow. So I know how it is to be proud of your graduates. And I know those of you who are gathered here with them whether you work with them or whether you are family, are proud of them.
Governor Hunt asked me to tell all 22 of you, how very proud he is of you. How much he admires and respects the fact that you have had the fortitude to stick this out. That you were the first pick of the department to be in this class. He asked me to extend to you his congratulations.
Congratulations to all of you.