North Carolina
Correctional
Officers Memorial
Service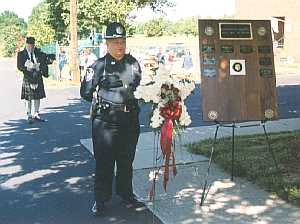 Home
Sponsored by
North Carolina
Police Benevolence
Association
May 20, 1999
Fairview Baptist Church
Statesville,
North Carolina
More than 150 correction employees and friends gathered at a Statesville church Thursday morning to pay tribute to the families of Correctional Officer Mike Anthony and seven other correction employees who lost their lives in service to the state.
"These families are now a part of our agency," said Bruce Barrett, a Central Prison Correctional Officer who serves as President of the Correctional Officers' Chapter of the North Carolina Police Benevolence Association. "Their loved ones will be with us forever and they are now and forever will be a part of our department."

Officers stood at attention, bagpipes played and a plaque bearing the names of the eight officers stood by a flower arrangement in the shape of a star at the church's front door.


A U.S. flag is presented to Lynn Anthony, wife of
Correctional Officer Mike Anthony.
Officer Anthony's parents, wife and children attended the service. Correctional Officer Michael Starnes of Iredell Correctional Center remembered Anthony as a devoted husband and father, a man of faith active in his community and a correctional officer who was a perfectionist.
"He was the only baseball and softball coach Hannah and Chad ever had. Not only did he participate in things in which Hannah and Chad were involved, he supported every event at their school at North Iredell," Starnes said. "His fellow officers will tell you that he completed every task which he was assigned and did it well."
In honor of Anthony, his wife Lynn, was presented a U.S. flag, an eighth rose was added to the correction star flower arrangement and his name was added to the plaque honoring the officers.
"As we remember the life and the spirit of each of these employees, let us see our own lives dedicated to a higher cause, let their remembrance lift us higher in truth and love. These eight men and women have shown us how to live a fuller life. We feel their presence ever near, as if they are carrying the banner, leading the way, State Correction Secretary Theodis Beck told those gathered at the service. "These eight officers answered the call for public service with the North Carolina Department of Correction when they demonstrated their willingness to help protect the citizens of this state and help improve the lives of North Carolinians. For not much money and for terrible hours, on a daily basis, they put their lives at risk for two simple reasons -- to protect and help others."
The service closed with the mournful sound of taps and a twenty-one gun salute. Officers filed out of the church and stood at attention as family members viewed the Roll Call of Honor plaque and left the church parking lot escorted by Iredell police.
The Roll Call of Honor plaque sits in the lobby of Central Prison in Raleigh.