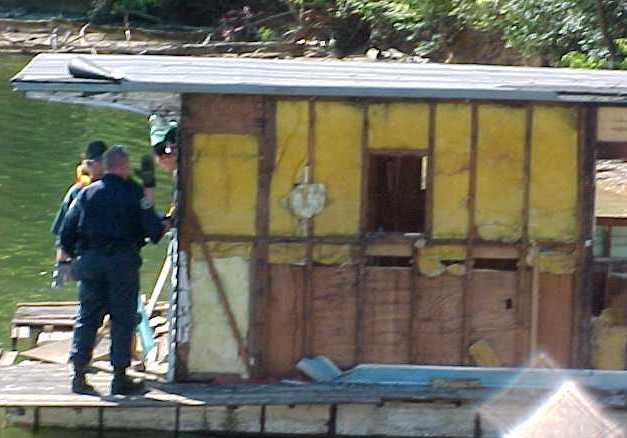 Inmates removed this abandoned houseboat from Lake James before they dismantled it and disposed of the remains.
Fifty trainees from IMPACT West in Morganton boarded pontoon boats on Lake Lure and Lake Rhodiss to gather trash along those shores. Meanwhile, 10 inmates from Black Mountain Correctional Center for Women conducted trash patrol along the banks of the French Broad River near Asheville.

Down East, 24 inmates from Pasquotank Correctional Center cleared 70 bags of trash form the banks of Simons Creek and Newbegun Creek while 60 trainees from IMPACT East volunteered to help clean up areas around the town of Hoffman.
Inmates from Sandhills Youth Institution worked 98 hours to clear limbs, vegetation and trash in Hoke County and inmates from Tyrrell Correctional Center picked up 121 bags of trash in Bertie County.

In the central part of the state, inmates from Rowan Correctional Center picked up trash at Dutch Second Creek Wildlife Access on High Rock Lake. Inmates from Dan River Work Farm in Caswell County went to work at sites in Alamance, Caswell, Stokes and Rockingham counties. They hauled in 625 bags of trash, 21 appliances, 26 pieces of furniture and 188 tires. Inmates from Davidson Correctional Center and North Piedmont CCW worked 240 hours gathering trash around Davidson County while inmates from Durham Correctional Center collected 70 bags of trash, along with tires and old mattresses.