NORTH CAROLINA
DEPARTMENT OF CORRECTION
James B. Hunt, Jr., Governor
Theodis Beck, Secretary
Tracy Little, Director of Public Information (919) 733-4926
FOR IMMEDIATE RELEASE
April 14, 2000
Correction Plays Key Role in Love A Tree Program
GARNER – Fifth graders across the state are learning how to construct nest boxes for bluebirds, thanks in part to efforts of inmates at Harnett Correctional Institution. The boxes were constructed as part of the annual Love A Tree Program, and were unveiled during a March 30 kickoff event at Timber Drive Elementary School in Garner.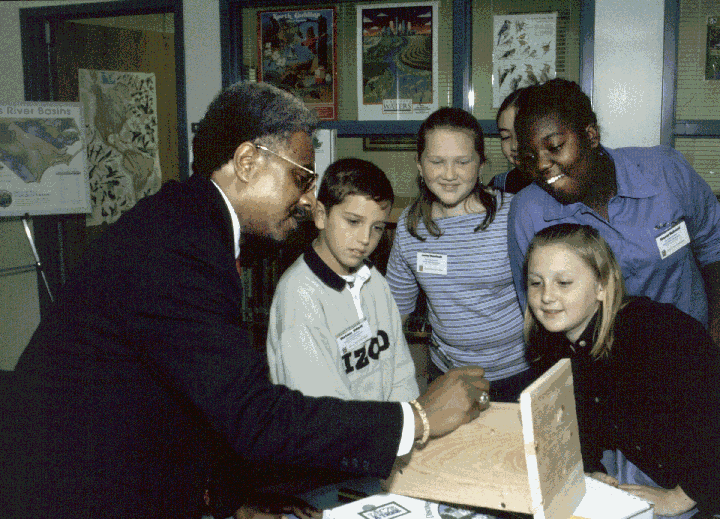 Governor Jim Hunt, who was previously scheduled to speak to the students but was unable to attend the event, said, "Love A Tree is an excellent example of collaboration between government and industry. This type of partnership can help to prepare young North Carolinians for the critical task of protecting our state's environment and preserving our quality of life both for the present and for future generations."
At the school, Department of Correction Secretary Theodis Beck helped students assemble bluebird next boxes. Department of Environment and Natural Resources Secretary Bill Holman and Department of Administration Secretary Katie Dorsett also assisted the students.
Inmates at Harnett worked for months converting surplus shipping pallets into the 6,500 bluebird nest box kits.
This community service project helps to instill a work ethic in the inmates, said Bill Tyson of Central Carolina Community College who serves as director of prison education at Harnett. "Inmates are isolated. This connects them to the outside world," Tyson said. The project also helps them feel they are giving back to society.
The bluebird box project is also a great way to recycle, said Tyson. Additionally, it promotes Governor Jim Hunt's sustainability agenda. There are no wasted materials in the project as wood that cannot be used for the boxes is bundled and given away for firewood.
"We're using throw-away materials to makes birds and kids happy," said Martin McDade, Superintendent at Harnett Correctional Instituition. "We're getting a lot for our money."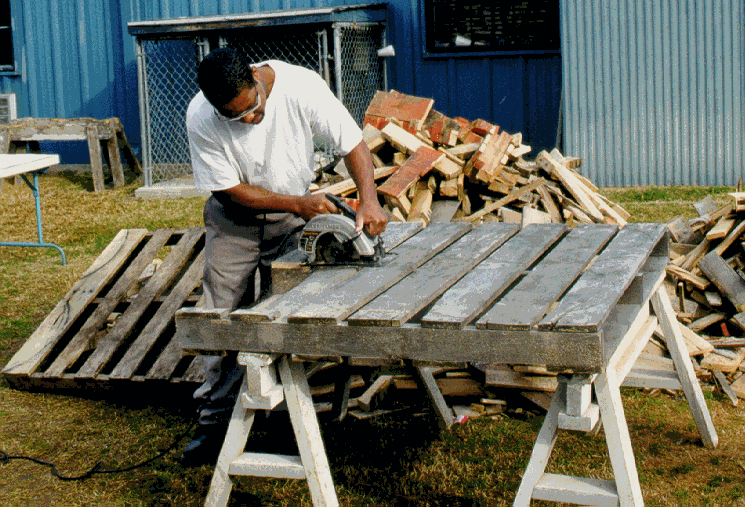 Inmates began production on the kits in early autumn and produced an average of 25 kits per day. The process of making the kits begins with sawing usable boards from the pallets. The usable boards are then dried, planed, and cut to size. Screws are then added, and the kit is shrink-wrapped. DOC's Harnett Janitorial Products Plant near did much of the shrink-wrapping.
After shrink-wrapping, the kits were transported to Wilmington where International Paper employees bundled them with environmental activity books and bluebird trading cards. Hardware for the boxes, assembly instructions and woodworking tools were provided by North Carolina businesses. Other agencies contributing to the project included: N.C. Department of Administration, North American Bluebird Society, N.C. Wildlife Federation Endowment and Education Fund, N.C. Wildlife Resources Commission and the N.C. Department of Public Instruction.
The goal of the Love A Tree program is to provide environmental education materials to North Carolina fifth graders. Bluebird nest box kits and related educational materials will be distributed to fifth graders across the state to educate students about the environment. The N.C. Office of Environmental Education administers the Love A Tree program.
---