NORTH CAROLINA
DEPARTMENT OF CORRECTION
James B. Hunt, Jr., Governor
Theodis Beck, Secretary
Tracy Little, Director of Public Information (919) 733-4926
June 30, 2000

Cates Promoted to Superintendent at Durham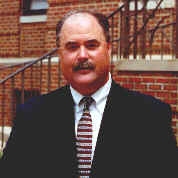 DURHAM- A longtime employee at Durham Correctional Center, David Cates, was named superintendent of the facility, effective June 12.

"David Cates knows every inch of the facility and its operation," said Secretary Theodis Beck. "I am confident his knowledge and professionalism will serve him well in his new position."

Cates has been acting superintendent since March upon Gary Newkirk's retirement. Before that Cates was assistant superintendent for eight years. He started his career with the department 19 years ago as a correctional officer at Durham.

"It's an honor to replace the man who hired me," said Cates. "I hope to continue his efforts in having a great working relationship with the community."

Cates lives in Durham with his wife and two young sons. A graduate of North Durham High School, he is active in the community. Cates is a little league baseball coach, an avid golfer and is involved in his church.



-pkw-


For a digital photo of Mr. Cates, please email Marjorie Shahravar at mshahravar@doc.state.nc.us.
---