| | | | | |
| --- | --- | --- | --- | --- |
| | | North Carolina Department of Public Safety | | |
New chaplains commissioned in prison ministry
December 5, 2000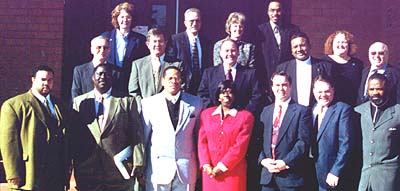 GARNER - The Division of Prisons now has 21 newly commissioned chaplains after a ceremony Dec. 5 at St. Mary's Catholic Church.
More than 100 people attended the commissioning and interfaith service of worship, which was sponsored by the Division of Prisons Religious Advisory Council. To be commissioned, a person must either be a full-time state paid chaplain, a community funded chaplain or a volunteer who works at least 10 hours a week in one or more of the state prisons.
Chief Deputy Secretary Dan Stieneke spoke at the service and addressed the need for chaplains. "We have so much faith in those who are coming to work with us and who will give so many inmates a brighter hope," said Stieneke.
Some of the chaplains, old and new, took part in the service by singing, reading scripture or leading in prayer. Special guest James T. Roberson, dean of Shaw Divinity School, gave the sermon. Chaplain James Prince, director of chaplaincy services, issued a charge to the chaplains. He said, "I charge you to be instruments of God's love, care and peace."
Later in the day, the advisory committee held a statewide chaplain meeting, which included a training seminar for the new chaplains by Roberson. The chaplains' duties include: addressing religious issues of all faiths, advising staff on religious issues, supervising religious activities, and counseling inmates, as well as their families.
To learn more about Division of Prisons Chaplaincy Services, visit their website.
---
DPS | Adult Correction | Prisons | Community Corrections | Correction Enterprises | ACDP | News | Offender Info | Contact
© 1995-2012 North Carolina Department of Public Safety. All rights reserved.