NORTH CAROLINA
DEPARTMENT OF CORRECTION
James B. Hunt, Jr., Governor
Theodis Beck, Secretary
Tracy Little, Director of Public Information (919) 733-4926
FOR IMMEDIATE RELEASE
March 17, 2000
Inmates Donate Handmade Clothing and Blankets to Floyd Victims
RALEIGH -- Inmates at the North Carolina Correctional Institution for Women (NCCIW) continue working to make clothing and blankets for victims of Hurricane Floyd.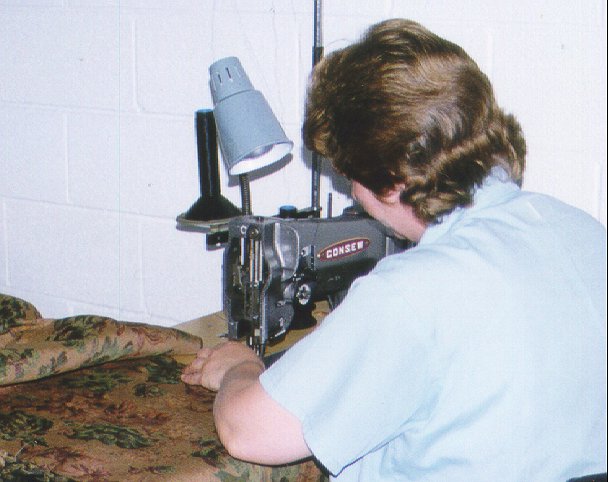 When the need arose after the storm, many inmates at the facility wanted to help. Mike Ledford, assistant superintendent for programs, said the inmates voiced their desire to personally contribute both their time and money to assist the victims. The Inmates Service Club and the Women's Club at the facility together donated $2,200 toward supplies. The approximately 180 inmates in the project used their own time after work and educational assignments to make the items. "This is their way of giving back," Ledford said.
Mary King, an inmate with family in Wayne County, said she lost count of how many items she made. For King, the ability to reach out to the community is therapeutic. "Even though I'm incarcerated, I still want to help those in need." She said of the project, "I enjoyed what I did. It was a great comfort to me."
Although she has no family in the flooded areas, inmate Pam Chamblis said, "I heard about the project, and I felt that I needed to be a part of it." She said making the sweaters, jackets, hats, scarves and mittens was a "labor of love." Making items for those in need has helped Chamblis' self-esteem as well. "I've done some pretty rotten things, and I'm trying to go forward rather than looking back."
Under the direction of Deloris Okine, an instructor at the prison, inmates have crafted 820 items, which include various articles of clothing and 30 comforter blankets.
Warden Carol Caldwell praised the work of the inmates and staff member Helen McNeill, a unit manager at NCCIW. Though not part of her job, McNeill personally delivered the crafts to County Inner Faith Disaster Relief Initiative in Rocky Mount.
Inmates at other N.C. prison facilities have also assisted with Floyd recovery efforts. Among the projects they've been involved with are refurbishing buildings, clearing debris, and loading, unloading and sorting donated items.
---