| | | | | |
| --- | --- | --- | --- | --- |
| | | North Carolina Department of Public Safety | | |
Inmates Graduate As Construction Apprentices
December 7, 2000
SMITHFIELD- Seventeen inmates from Johnston Correctional Institution graduated Dec. 1 from a construction apprenticeship program sponsored by the N.C. Department of Labor.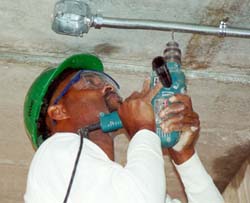 The inmates were required to complete more than 400 hours of instruction and 6,000 hours of work supervised by a trade professional. Their apprenticeship trades include heating and air conditioning, electrical and brick masonry. The Department of Correction's Engineering office oversees the program and provides instructors.
Secretary Theodis Beck attended the graduation and touted the program's benefits. "This is an excellent program that not only saves taxpayers money, but also helps the inmates," said Beck. "The inmates learn a trade that will provide them with a foundation to become productive, taxpaying citizens upon release."
Some of the graduates say they're glad they could be a part of the apprenticeship program. "The opportunity was there for me to take," said inmate Ricky Chambers. "If you want to sit back and do nothing, that's up to you." Chambers added, "I'm proud of the work I've done and it's keeping me out of trouble."
To date, the inmates have been assigned jobs in their trades on such projects as the construction of new dorms at Dan River Prison Work Farm in Yanceyville and Tyrrell Prison Work Farm in Creswell, as well as the new sewing plant at Columbus Correctional Institution in Brunswick. Some of the graduates are currently working on the construction of a new dorm and other buildings at N.C. Correctional Institution for Women in Raleigh. The inmates are paid on a graduated scale from $1 to $3 a day depending on their time on the job.
---
DPS | Adult Correction | Prisons | Community Corrections | Correction Enterprises | ACDP | News | Offender Info | Contact
© 1995-2012 North Carolina Department of Public Safety. All rights reserved.