| | | | | |
| --- | --- | --- | --- | --- |
| | | North Carolina Department of Public Safety | | |
Big effort by Craggy inmates helps needy people
November 17, 2000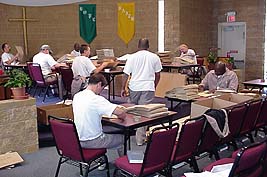 Inmates at Craggy Correctional Center went to work this month folding more than 67,000 paper grocery bags for insertion into the Sunday, November 12 edition of the Asheville Citizen-Times newspaper.
During the holiday season the Manna Food Bank, WLOS-TV, the Asheville Citizen-Times and the Asheville Mall conduct a widespread community effort to collect food to help feed needy people throughout Western North Carolina. This year 82,500 brown bags were folded for mechanical insertion into the newspaper.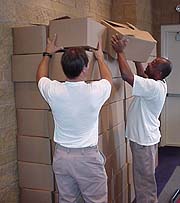 Chaplain George Holley announced that for the fund drive this year several Craggy inmates helped fold 67,500 of the bags over a five-day period. This is the third year that Craggy has participated in the fund drive.
The first year inmates folded 10,000 bags and last year they folded 20,000. This year's effort was a big jump in commitment by both the inmates and staff Holley said. But both the staff and inmates feel very good about this worthy accomplishment that will help so many in the communtiy.
The Chapel in Craggy's T. Frank Shirley Religious Center was converted into a work area as 135 500-bag bundles were stacked in the chapel, the bags folded, boxed and then sent back to the Manna Food Bank. At the end of each day the inmates assigned to the Religious Center cleaned the chapel for religious services at night.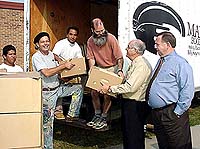 Chaplain Holley said he was pleased that the Chapel could be used for such a worthy cause in addition to religious services.
In addition to the inmates who participated, he praised Superintendent William D. Anderson, Jr. and Assistant Superintendent-Programs J. D. Burnette for their full support in this effort.
---
DPS | Adult Correction | Prisons | Community Corrections | Correction Enterprises | ACDP | News | Offender Info | Contact
© 1995-2012 North Carolina Department of Public Safety. All rights reserved.