| | | | | |
| --- | --- | --- | --- | --- |
| | | North Carolina Department of Public Safety | | |
Probation/Parole officer named employee of the year
December 13, 2000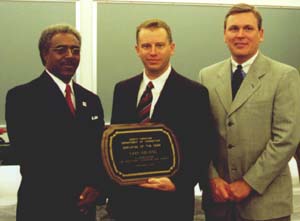 APEX - The Department of Correction named Probation/Parole Officer Gary Golding of Surry County Employee of the Year during a ceremony Dec. 13.
Last fall, Golding was in a Surry County courtroom when he heard a sheriff's deputy shouting for assistance. He quickly came to the aid of the deputy who was being attacked by two prisoners in her custody. The prisoners had apparently tried to get her weapon and Golding was able to subdue one of the prisoners while another deputy subdued the other prisoner.
"Gary Golding's bravery and quick reaction to the altercation prevented a potentially deadly situation," said Secretary Theodis Beck. "I am proud to honor him as the Department's Employee of the Year."
Golding joined the Department in November of 1994 as a probation/parole officer. He is also in the U.S. Army Reserves. Golding lives on a farm in Mt. Airy.
---
DPS | Adult Correction | Prisons | Community Corrections | Correction Enterprises | ACDP | News | Offender Info | Contact
© 1995-2012 North Carolina Department of Public Safety. All rights reserved.