| | | | | |
| --- | --- | --- | --- | --- |
| | | North Carolina Department of Public Safety | | |
BRIDGE officer receives Governor's award for excellence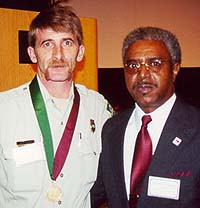 RALEIGH - Governor Jim Hunt presented Officer Jeffrey Clark of Blue Ridge Youth Center the Governor's Award for Excellence during a ceremony at the N.C. Museum of History Nov. 20.
The longer I serve the State, the more impressed I am with employee examples of excellence," said Governor Hunt. "We hope that the people you work with will be inspired by you."
Hunt created the Governor's Award for Excellence, the highest honor a state employee can receive, in 1982. Other state employees nominate recipients. The Governor's Committee for Recognition of State Employees selected this year's 12 recipients from 90 statewide nominations.
Clark won the award in the Safety and Heroism category, which is for employees who demonstrated outstanding judgement or courage in an emergency. On the way to work earlier this year, his quick thinking and courage helped save two lives. Clark spotted a pickup truck that had just gone down an embankment. He rushed to the flaming vehicle with his fire extinguisher. Despite the high temperatures, he was able to free the unconscious passenger and the barely conscious driver. Miraculously, Clark was able to get the two to safety without being burned at all.
As a BRIDGE Officer, one of Clark's main responsibilities is supervising inmates who are fighting dangerous forest fires. He is often called in to work weekends, holidays and odd hours during fire season.
"Jeffrey Clark is a true testament to dedication and bravery," said Secretary Theodis Beck. "It makes me proud this officer with such a genuine concern for others is a part of our team."
Clark started his career with the Department 11 years ago as a correctional officer trainee at Burke Youth Center. He later transferred to Blue Ridge's Bridge program. In May, the Department recognized Clark as one of the 16 Officers of the Year.
---
DPS | Adult Correction | Prisons | Community Corrections | Correction Enterprises | ACDP | News | Offender Info | Contact
© 1995-2012 North Carolina Department of Public Safety. All rights reserved.