| | | | | |
| --- | --- | --- | --- | --- |
| | | North Carolina Department of Public Safety | | |
Employees and inmates spread holiday cheer
Here's how some employees and inmates at Department of Correction work locations
across the state are spreading their own holiday cheer...
Division of Prisons
Caldwell Correctional Center - Hudson - The staff at Caldwell has "adopted" four young brothers this Christmas with the help of the Department of Social Services. Employees and Resource Council members made contributions to help the boys have a Merry Christmas.

Craven Correctional Institution - Vanceboro - Inmates in the Horticultural landscaping Program at Craven have been growing beautiful poinsettias from cuttings. The plants are dressed with Christmas paper and ribbons and given to to local charities. This year the plants were delivered to the Coastal Women's Shelter in New Bern and to United Senior Service/ Meals on Wheels on Dec. 12. The Horticulture department held its annual Holiday Plant Sale on Dec. 14. selling poinsettias, holiday cactus, banana trees, aloe, African violets and various foliage plants. A total of $207 was raised.
Foothills Correctional Institution - Morganton - Employees at Foothills continued to spread Christmas cheer to local children through their annual Angel Tree program. This year staff provided gifts for a total of 47 boys and girls referred from the Department of Social Services and the Salvation Army Boys and Girls Clubs. The gifts were delivered to children at two parties on Dec. 10 and Dec. 15. Foothills employees also worked with the Red Cross to organize their first ever blood drive on November 13. Thirty-four units of blood were collected, from 30 previous donors and four first-time donors. Future blood drives are planned for twice each year.
Morrison Youth Institution - Hoffman - Third shift staff joined forces with the Richmond County Department of Social Services to purchase more than $300 worth of toys, clothing and other gifts for a child from a disadvantaged home. The shift met at a local restaurant to give the child several armloads of gifts and a new bicycle. They also purchased about $400 worth of gifts for residents at Glenwood Rest Home in Rockingham. About 25 inmates in an industrial maintenance class made about 100 decorations for special-needs children at the Sandhills Children's Center.
Neuse Correctional Institution - Goldsboro - Employees at Neuse collected food for needy families at Thanksgiving. This Christmas, they've "adopted" a single mother and her two children. Staff are collecting money for gifts and food donations for a Christmas meal. The Inmate Service Club at Neuse is donating $300 to the Boys and Girls Club of Wayne County to help buy holiday gifts for needy children.
New Hanover Correctional Center - Wilmington - Staff at New Hanover are donating Christmas meals for several needy families in Pender, New Hanover and Brunswick counties. The project started 4 or 5 years ago when Correctional Officer Carl Miller collected from his co-workers to purchase meals for a few local families. Since Carl's retirement, a committee has formed to continue the tradition. This year the New Hanover staff will deliver complete holiday meals with turkey, ham and all the fixings. The families will also receive some clothing and groceries. The staff has invited Carl along to help make the deliveries.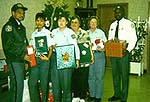 Odom Correctional Institution - Jackson - Staff at Odom "adopted" eight local children this Christmas. They located the children through the local Social Services Department. Staff pitched in to buy games, clothes and toys for the kids. Pictured left to right are Officer Billy Jacobs, Officer Beulah Tann, Officer Victoria Hunt, Asst. Supt. for Programs Alma Hux, Officer Joann Fleetwood and Lt. Kenneth Lassiter.
Pasquotank Correctional Institution - Elizabeth City - Community Work Crew Officer William Barclift has repaired and restored seven old bicycles and donated them to Perquimans County Social Services to be given to children for Christmas. Other staff at Pasquotank are working with the State Employees Credit Union in Elizabeth City, raising money through a bake sale and donating new gifts for needy children and families.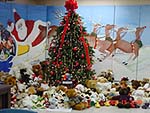 Pender Correctional Institution - Burgaw - Volunteers at Pender are continuing with tradition, holding the annual Volunteer/Inmate Christmas Dinner. Volunteers will prepare a full spread of fried chicken, barbecue, green beans, potato salad bread and desserts for Pender's 756 inmates. The Program Services staff has "adopted" two children through the local Social Services department. Employees are making donations to contribute to a happy Christmas for those children.
Southern Correctional Institution - Troy - The staff at Southern has has "adopted" children from a needy Montgomery County family for the holidays. Employees collect cash donations during November and December and then other employees go shopping for clothes and toys for the children. A food donation box is placed in the lobby to collect food items for the family's pantry.
Umstead Correctional Center - Butner - The Inmate Service Club at Umstead is donating $500 to Volunteer Services at Murdock Center for the Retarded in Butner. The money will be used to buy gifts for Murdock residents through the "Operation Santa" program. In past years, the American Red Cross and the Hurricane Floyd Relief Fund have benefited from the Inmate Service Club's generosity.
PERT Team, 3rd platoon, 1st Battalion Company B - The PERT team purchased stocking stuffers and received donations from Wal-Mart and Pepsi, which they delivered to kids at the Friends of the Court party. The non-profit volunteer organization assists court-referred and at-risk youth ages seven to seventeen.
Division of Community Corrections
Judicial District 4A - Onslow County - Staff from District 4A - Unit 1 celebrated Christmas together with a luncheon at a local restaurant. Instead of exchanging gifts among themselves, the group made a donation to Christmas Cheer in Jacksonville.
Judicial District 16B - Robeson County - Staff received donations from a covered-dish meal and collected toy donations from the community. They were delivered them to children at Southeastern Regional Medical Center, Southeastern Family Violence Center, Methodist Home for Children and Odom Home for Children. Some probation/parole officers said they were happy to bring some holiday cheer to the children.
Judicial District 20A - Richmond County - Probation/Parole Officers from District 20A "adopted" a single mother and her four boys, ages 1-7. Staff collected toys, clothes and foods for the family and even sang a few Christmas carols when they made their holiday delivery.
---
DPS | Adult Correction | Prisons | Community Corrections | Correction Enterprises | ACDP | News | Offender Info | Contact
© 1995-2012 North Carolina Department of Public Safety. All rights reserved.