| | | | | |
| --- | --- | --- | --- | --- |
| | | North Carolina Department of Public Safety | | |
Inmates graduate as JobStart ready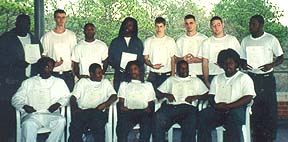 McCAIN, December 28 -- Thirteen inmates from across North Carolina are the first graduates of the JobStart program at Sandhills Youth Center. JobStart is a prison-to-work transition program designed to provide inmates with the job-seeking skills they need to get a job after their release from prison. The JobStart program launched in the Fall of 2000 at Sandhills and four other prisons: Morrison Youth Institution, Polk Youth Institution, Western Youth Institution and North Carolina Correctional Institution for Women.
James McPhatter, a Hoke County employment consultant and JobLink partner representative, spoke to the graduates and focused on some essential and fundamental readiness principles each prospective worker needs to successfully enter and advance in the employment market. He stressed the importance of a high school diploma or GED and the advantages of a college degree. McPhatter also reminded inmates of the important documents often required in a job search: a photo ID, social security card, birth certificate, driver's license, and a completed resume, cover letter and references.
Sandhills Job Start team members M.B. Richardson and D.F. Deese presented certificates of completion to the graduates. The graduates are pictured in the photo above. Left to right (seated): Willie Gibson, Jeremy Reid, Cary Phifer, Karim Brown, and Rodriques McRae. Left row right (standing) Antawn Maynard, William Harrell, Travis Wilkerson, Derrick Davis, Ronald Newsom, Robert Warnke, Christopher Speight and John Lucas.
"This program helped me sharpen my interviewing skills, learn what employees want from employers and how to better prepare for work in the free world," said Antawn Maynard. "JobStart taught me how to save some money, how to get ready for a job and how to explain my prison sentence in a better way," said Travis Wilkerson.
As these young men exit Sandhills, they will be linked with JobStart Aftercare community partners within their respective employment areas. They will also participate in post-release programs designed to lower prison recidivism while strengthening families and communities.
---
DPS | Adult Correction | Prisons | Community Corrections | Correction Enterprises | ACDP | News | Offender Info | Contact
© 1995-2012 North Carolina Department of Public Safety. All rights reserved.