| | | | | |
| --- | --- | --- | --- | --- |
| | | North Carolina Department of Public Safety | | |
Employees recognized at Mountain View reception
December 5, 2000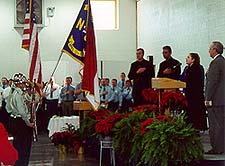 SPRUCE PINE - Mountain View Correctional Institution celebrated its new status as a state-run prison facility on Dec. 5 with a reception attended by hundreds, including family members of prison staff, department officials and dignitaries from Avery and Mitchell counties.
The state assumed control of Mountain View and Pamlico Correctional Institutions on October 1. The facilities had previously been operated by Corrections Corporation of America, which continues to own the buildings and now leases them to the state.
Mountain View Superintendent David Mitchell also took the opportunity to recognize his staff members who had worked so hard to make the private-to-state-run transition a success. Each of Mountain View's 219 employees received a certificate of recognition.
"The transition has been rapid and challenging," said Mitchell. "We had 54 days to hire 215 personnel and set up operating procedures." The change happened quickly, but by all accounts, it could not have gone more smoothly.
"These people have done a magnificent job," said Steve Bailey, Western Region director for the Division of Prisons. "They will have the responsibility of keeping Mountain View a safe place to work, and keeping this community a safe place to live."
Ninety former CCA workers were hired on as state employees and the rest of the staff was recruited from the local community or from other Division of Prisons sites.
Changes at Mountain View are visible not only with the new faces on the staff, but in the facility itself. The bright green and yellow paint scheme left behind by CCA is gone, painted over with a blend of deep blue, dark red and gray colors. An attractive sign bearing the state's Great Seal greets visitors as they turn into the prison's entrance.
Mitchell says he intends to make sure his facility makes some valuable contributions to its host community. That attitude was echoed by senior prison officials.
"We will continue to do good business, to be good neighbors and to be good partners to both Avery and Mitchell counties," said Division of Prisons Director James French. "We don't take our relationship with the local community lightly," said Correction Secretary Theodis Beck.
"We have done something that I don't think anyone in the nation has done," said Beck, referring to the transfer of control of an occupied prison facility. "Our presence here today is proof that we got a lot of things right."
---
DPS | Adult Correction | Prisons | Community Corrections | Correction Enterprises | ACDP | News | Offender Info | Contact
© 1995-2012 North Carolina Department of Public Safety. All rights reserved.