| | | | | |
| --- | --- | --- | --- | --- |
| | | North Carolina Department of Public Safety | | |
Male Inmates Constructing New Dorm at Women's Facility
May 30, 2000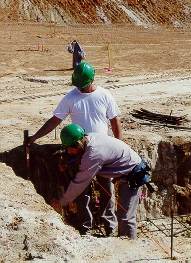 RALEIGH -- The Department of Correction's inmate construction program continues to break new ground, this time using male inmates to build a new dorm at a women's facility.
Inmates currently housed at Johnston Correctional Institution in Smithfield have begun work on a 208-person dormitory at N.C. Correctional Institution for Women. The $4 million project is expected to take 15 months to complete. The state will save $880,000 by utilizing inmate labor for the project.
"This expansion of the inmate construction program is another step toward reaching Governor Hunt's goal of having every able-bodied inmate work," said Correction Secretary Theodis Beck.
Special security measures have been implemented to address the uniqueness of having male prisoners working at a female facility. First, the construction area is fenced off from the remainder of the facility. Also, screening has been added to fences that separate the construction site from the rest of the prison.
Another new security measure is a remote control device that can shut down any piece of heavy machinery if it gets too close to a fence in construction area. In addition to staff supervising the inmates on the ground, there are also three towers staffed with correctional officers adjacent to the site. Armed officers staff the two towers outside the construction areas.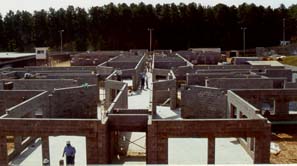 "We have tried to take appropriate safety measures for the inmates and the community," said Dorothy Ledford, inmate work coordinator for the Division of Prisons. "The inmates who work on the construction projects are carefully screened to ensure that we have the right inmates on the right site."
The inmate construction program began in 1993. Since its inception, inmates have built dormitories at three facilities, a manufacturing plant for Correction Enterprises and are completing a renovation of a Department of Correction office and storage complex in Apex. In addition, the inmate construction program workers have built numerous high-tech perimeter fences throughout the state. These projects have saved the state an estimated $6.5 million by using inmate labor.
---
DPS | Adult Correction | Prisons | Community Corrections | Correction Enterprises | ACDP | News | Offender Info | Contact
© 1995-2012 North Carolina Department of Public Safety. All rights reserved.