NORTH CAROLINA
DEPARTMENT OF CORRECTION
James B. Hunt, Jr., Governor
Theodis Beck, Secretary
Tracy Little, Director of Public Information (919) 733-4926
June 30, 2000
Sanford Welcomes Lewis Smith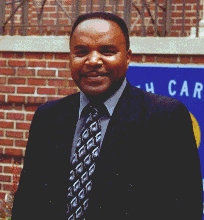 SANFORD- Lewis Smith has been named superintendent of Sanford Correctional Center, effective June 12.

"In his 18 years with the department, Lewis Smith has proven himself to be a dedicated employee and a good manager," said Secretary Theodis Beck. "He is a very competent prison administrator."

Smith comes to Sanford from Albemarle Correctional Center where he had served as captain. A Correction employee since November 1982, Smith began his career as a correctional officer at Southern Correctional Institution. From there he worked his way up the ranks, serving as a drill instructor, platoon sergeant, master sergeant and lieutenant at IMPACT, the state's boot camp program. He then went to Anson Correctional Center as lieutenant and was later named acting superintendent at Stanly Correctional Center.

Smith is also assistant company commander for the Prison Emergency Repsonse Team (PERT), a general instructor and firearms instructor. In 1992, he earned the advanced certificate from the North Carolina Criminal Justice Education Standards Commission.

Smith says he's up to the challenge of his new position. "My primary goals are to ensure the rehabilitation of inmates and help prepare them for their return to the public sector. I also want to make sure the facility is a safe environment for staff and inmates," said Smith.

A native of Troy, Smith attended Montgomery Community College where he received an associate's degree in criminal justice in 1982 and an associate's degree in education in 1989. He has a daughter in college and a 12-year-old son.

Smith replaces Harry Chambers, who retired May 31.

-pkw-

For a digital photo of Mr. Smith, please email Marjorie Shahravar at

mshahravar@doc.state.nc.us.
---