NORTH CAROLINA
DEPARTMENT OF CORRECTION
James B. Hunt, Jr., Governor
Theodis Beck, Secretary
Tracy Little, Director of Public Information (919) 733-4926
May 10, 2000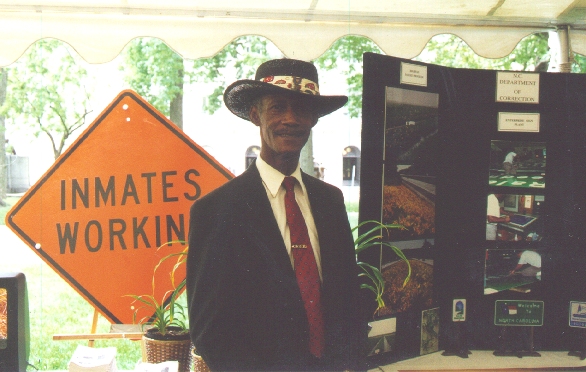 Henry McLean answers questions about the State Tourism & Transportation Information hotline.
Department Shows What It Does for Tourism
By Pamela Walker
From daylilies planted on our highways to inmates answering the state tourism hotline, the Department of Correction showed off its wide variety of ongoing projects that promote tourism at the National Tourism Week Interagency Tourism Fair held May 10 in Raleigh.
In addition to the daylilies provided by Correction Enterprises' Caledonia Farm, the Department's fair booth showcased Community Work Crews picking up litter, Correction Enterprises' sign plant where inmates make all the state's highway signs, as well as Community Work Crews cleaning up debris at beaches after recent hurricanes.
Henry McLain, supervisor of the female inmates who answer calls for the North Carolina Tourism and Transportation Information Center, was on hand to answer questions about that program.
More than 30 agencies participated in the annual National Tourism Week event on the State Capitol lawn. The Department of Commerce and the Interagency Marketing Council sponsor the fair.
-pkw-
---