NORTH CAROLINA
DEPARTMENT OF CORRECTION
James B. Hunt, Jr., Governor
Theodis Beck, Secretary
Tracy Little, Director of Public Information (919) 733-4926
FOR IMMEDIATE RELEASE
March 17, 2000
Prison Community Work Crews Log 1.7 Million Work Hours in 1999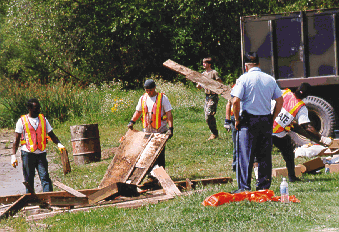 RALEIGH -- Prison inmates worked more than 1.7 million hours in 1999 as part of the Governor's Community Work Program that puts minimum-security prisoners to work for North Carolina communities.
Prisoners from 42 state prisons worked a total of 1,773,949 hours during 1999. If the prisoners had been paid the current minimum wage of $5.15 an hour, their labor would have been valued at $9.1 million. The prisoner's labor is free to public agencies that supply materials needed for the manual labor projects the prisoners tackle. The prisoners work in squads of up to 10 under the supervision of a correctional officer.
In 1999, prisoners tackled a wide variety of jobs clearing brush, picking up litter, painting buildings and construction work. In all, prisoners worked on 5,683 separate projects for more than 1,200 agencies across the state. The squads were also put to work helping communities that suffered the wrath of Hurricane Floyd. Among the jobs inmates performed following the storm were moving furniture in and out of damaged buildings, clearing debris and sorting and loading donated goods.
"All North Carolinians benefit from this program," said Correction Secretary Theodis Beck. "I'm proud of the hard work of our Correction staff who have made this program a success and of the contributions of state prisoners, especially the cleanup effort after Hurricane Floyd."
The program was started in 1994 at Greene Correctional Center and has expanded throughout the state.
-bb-
1999 Community Work Squad Survey

Unit Name
# Projects Worked
# Agencies Worked
# Inmate Hours
Anson CC

80

31

20,614

Black Mtn.CCW

97

17

845

Bladen CC

647

52

63,045

Buncombe CC

81

36

17,126

Cabarrus CC

114

27

22,147

Caldwell CC

287

25

51,302

Carteret CC

117

44

48,682

Catawba CC

51

33

17,424

Charlotte CC

148

10

7,132

Currituck CC

10

2

1,838

Dan River PWF

272

74

244,878

Davidson CC

81

26

38,560

Duplin CC

111

83

72,600

Durham CCC

58

13

15,986

Forsyth CC

53

34

7,554

Fountain CC

30

25

24,336

Gaston CC

94

27

31,938

Gates CC

27

10

19,440

Greene CC

409

45

79,092

Guilford CC

78

20

12,800

Haywood CC

149

44

24,904

Henderson CC

87

28

39,072

Hyde CI

67

12

25,130

Marion CI-Mini.

185

26

60,592

McCain CH

40

6

11,554

Neuse CI

124

37

46,288

New Hanover CC

355

62

96,444

North Piedmont CCW

69

42

12,839

Orange CC

43

14

16,440

Pasquotank CI

180

30

63,138

Raleigh CCW

1

1

163

Robeson CC

167

29

54,880

Rowan CC

71

12

28,160

Rutherford CC

156

25

50,907

Sandhills CC

63

15

32,140

Sanford CC

111

34

54,960

Scotland CC

42

14

19,468

Southern CC

177

43

49,784

Tillery CI

125

59

54,352

Tyrrell PWF

230

40

134,449

Umstead CC

160

35

21,638

Wilkes CC

236

20

79,308

TOTAL

5,683

1,262

1,773,949
---