| | | | | |
| --- | --- | --- | --- | --- |
| | | North Carolina Department of Public Safety | | |
North Carolina
DEPARTMENT OF CORRECTION
Michael F. Easley, Governor Theodis Beck, Secretary
For Immediate Release
May 24, 2001
Contact: Keith Acree
Public Information Officer
(919) 716-3700
---
Department of Correction honors Officers of the Year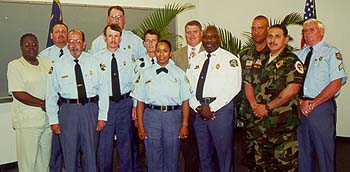 APEX – Twelve correctional officers from throughout the state were honored as Department of Correction Officers of the Year during a ceremony held May 24 in Apex.
The officers were recognized for various accomplishments, ranging from acts of heroism to initiating projects to improve operations of prison facilities and supervision of offenders. The 12 were selected from more than 10,900 correctional officers who work for the department.
During the ceremony, Correction Secretary Theodis Beck expressed his pride in their work. "The officers we are honoring today are shining examples of the Department's best.," said Beck. "They are role models for other officers and ambassadors for their facilities and the Department of Correction."
The officers honored and their work locations are:
Sergeant Jackie Batts Sr. - Johnston Correctional Institution - Smithfield
Captain Rudolph Britton - Franklin Correctional Center - Bunn
Perry Franklin - Marion Correctional Institution - Marion
Sergeant Wayne Grant - Pamlico Correctional Institution - Bayboro
Sergeant Danny Johnson - Greene Correctional Center - Maury
Sergeant Shirley Parker - Caledonia Correctional Institution - Tillery
Officer Jamie Suarez - Morrison Youth Institution - Hoffman
Sergeant Charles Thomas - Foothills Correctional Institution - Morganton
Sergeant Teresa Thomas - Caswell Correctional Center - Yanceyville
Officer Sandra Young - North Piedmont Corr. Ctr. for Women - Lexington
Officer Alberto Gellys - IMPACT West boot camp - Morganton
Corporal John Winters - IMPACT East boot camp - Hoffman
# # #
---
DPS | Adult Correction | Prisons | Community Corrections | Correction Enterprises | ACDP | News | Offender Info | Contact
© 1995-2012 North Carolina Department of Public Safety. All rights reserved.