| | | | | |
| --- | --- | --- | --- | --- |
| | | North Carolina Department of Public Safety | | |
North Carolina
DEPARTMENT OF CORRECTION
Michael F. Easley, Governor Theodis Beck, Secretary
For Immediate Release
May 24, 2001
Contact: Keith Acree
Public Information Officer
(919) 716-3700
---
GELLYS HONORED AS CORRECTIONAL OFFICER OF THE YEAR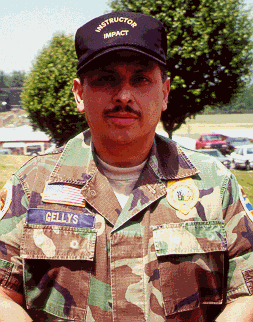 APEX - Officer Alberto Gellys from the IMPACT West boot camp in Morganton was recognized today by Correction Secretary Theodis Beck and the North Carolina Department of Correction as one of 12 Correctional Officers of the Year.
Gellys was honored for his outstanding service as the transportation and armory officer at IMPACT West.
"Officer Gellys is dedicated to the IMPACT program, has a good work ethic and encourages others to do likewise," said Assistant Superintendent James Greene. "I believe Officer Gellys exemplifies what a correctional officer with the North Carolina Department of Correction should be."
Gellys is responsible for inventory and repair of all weapons assigned to IMPACT West. He assists the training instructors during annual in-service training with firearms and pepper spray. Officer Gellys also maintains all maintenance and mileage records for IMPACT West vehicles.
Gellys joined the Department of Correction in 1995. He lives in Morganton.
# # #
---
DPS | Adult Correction | Prisons | Community Corrections | Correction Enterprises | ACDP | News | Offender Info | Contact
© 1995-2012 North Carolina Department of Public Safety. All rights reserved.