| | | | | |
| --- | --- | --- | --- | --- |
| | | North Carolina Department of Public Safety | | |
Easley appoints Beck as Secretary of Correction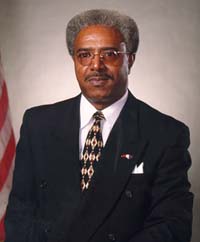 RALEIGH, Jan. 10 - Governor Mike Easley today named Theodis Beck as Secretary for the Department of Correction. Beck, 52, a native of Asheville, N.C. was appointed Secretary in April of 1999. Prior to that, he served as a deputy secretary, overseeing the department's Division of Prisons and the Division of Adult Probation and Parole. Before that, he was the director of the Division of Adult Probation and Parole (DAPP).
He started his career as a probation and parole officer in Asheville in 1975. In 1983, he was selected as one of the state's original eight intensive probation and parole officers, providing close supervision to offenders to ensure they obey the conditions of their probation and parole. He has also served as an assistant branch manager for DAPP in western North Carolina, and then as assistant director of the division's programs and support services. Beck is a 1970 graduate of NC Central University.
He is also a graduate of the NC Public Managers Program, which provides state-sponsored classes on effective management practices. From 1970-72 he served in the U.S. Army, where he rose to the level of sergeant. He also served as a first sergeant for eight years and a drill sergeant for 12 years in the U.S. Army Reserves, and retired in 1997.
"Secretary Beck has provided valuable leadership at the Department of Correction," said Easley. "He has shown a strong commitment to making our State safer by keeping dangerous prisoners behind bars and off of our streets. Having worked his way up through the ranks at Correction also gives him unique experience that is invaluable in running this agency."
---
DPS | Adult Correction | Prisons | Community Corrections | Correction Enterprises | ACDP | News | Offender Info | Contact
© 1995-2012 North Carolina Department of Public Safety. All rights reserved.