| | | | | |
| --- | --- | --- | --- | --- |
| | | North Carolina Department of Public Safety | | |
North Carolina
DEPARTMENT OF CORRECTION
Michael F. Easley, Governor Theodis Beck, Secretary
For Immediate Release
June 18, 2001
Contact: Keith Acree
(919) 716-3700
---
Bill Baker named administrator at Avery-Mitchell Correctional Institution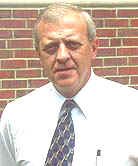 SPRUCE PINE - Secretary Theodis Beck has named Bill Baker administrator of Avery-Mitchell Correctional Institution effective June 1.
"Bill Baker knows this prison, its staff and the community well," said Secretary Beck. "His experience in the Division of Prisons has prepared him for the challenging role of managing Avery-Mitchell."
Baker joined the Department of Correction in 1987 after a ten-year career in law enforcement. His first job was program supervisor at the old Avery Correctional Center. In 1989, he supervised the opening of Blue Ridge Correctional Center and served as its first superintendent. He then moved on to Foothills Correctional Institution where he served as unit manager, captain and assistant superintendent for custody and operations. Since August 1998 he has been the assistant superintendent for custody and operations at Avery-Mitchell.
"Avery-Mitchell is a fine institution, and I am very proud of its staff," said Baker. "They do a great job, and we'll keep building on that success."
Baker is a graduate of Spruce Pine High School and received a criminal justice degree from Mayland Community College. He has also studied at Caldwell Community College and Appalachian State University. He is a graduate of the North Carolina Public Manager's Program.
Baker grew up in Avery and Mitchell counties and now lives on a 130-acre Christmas tree farm in Avery County. His wife Tammy is the Avery County Register of Deeds. They have two daughters and one son.
Baker replaces Superintendent Marcus Hughes who retired March 31.
# # #
---
DPS | Adult Correction | Prisons | Community Corrections | Correction Enterprises | ACDP | News | Offender Info | Contact
© 1995-2012 North Carolina Department of Public Safety. All rights reserved.