| | | | | |
| --- | --- | --- | --- | --- |
| | | North Carolina Department of Public Safety | | |
North Carolina
DEPARTMENT OF CORRECTION
Michael F. Easley, Governor Theodis Beck, Secretary
For Immediate Release
February 9, 2001
Contact: Pamela Walker
Public Information Officer
(919) 716-3700
---
SOUTHERN INMATES GIVE BACK TO THE COMMUNITY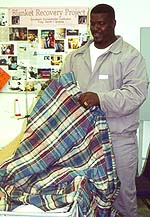 TROY - From chemotherapy caps for cancer patients to finger puppets for schoolchildren, inmates assigned to the Blanket Recovery Project at Southern Correctional Institution are working daily to give back to the community.
"We currently have orders for more than 4,000 blankets for the Red Cross, rescue missions and emergency management offices," said Correctional Officer Mike McIntyre. "We also make kindergarten mats, stuffed animals, paint smocks, and school supply caddies for schoolchildren across the state, as well as wheelchair cushions for the disabled and stockings for Christmas."
Officer McIntyre started the Blanket Recovery Project at Southern in July 1998. "All the materials are donated," said McIntyre. "We get old inmate uniforms and t-shirts and scraps from textile mills."Approximately 13 inmates at the facility are assigned to the program. Last year the inmates made nearly 12,000 blankets for Hurricane Floyd flood victims and other relief efforts. They have also made a giant teddy bear for Valentine's Day for special needs children at Norwood Elementary School in Norwood.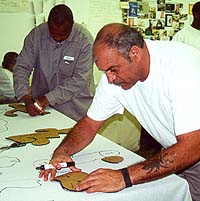 The walls of the room they work in are lined with certificates of appreciation from family resource organizations, various boards of education and county commissioners from all over the state. Officer McIntyre and the inmates often receive cards and pictures from schoolchildren that they say makes their day.
"It makes you feel good to know you're doing something for somebody," said Inmate Thomas Kirkland. "Inmates stand in line to get into the project because it gives you a chance to make something for someone who might otherwise go without," said Inmate Mario Pettiford.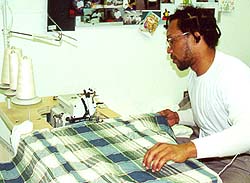 Inmate Jerry King proudly shows you around the room explaining how the project works. "Some of us draw the patterns and do the cutting, while others come up with the designs or do the actual sewing," said King.
The inmates apply to be a part of the project. They must remain infraction free for at least 30 days and preferably have some sewing skills before they are considered.
-pkw-
---
DPS | Adult Correction | Prisons | Community Corrections | Correction Enterprises | ACDP | News | Offender Info | Contact
© 1995-2012 North Carolina Department of Public Safety. All rights reserved.