| | | | | |
| --- | --- | --- | --- | --- |
| | | North Carolina Department of Public Safety | | |
North Carolina
DEPARTMENT OF CORRECTION
Michael F. Easley, Governor Theodis Beck, Secretary
For Immediate Release
June 28, 2001
Contact: Keith Acree
(919) 716-3700
---
Catherine Combs Named Judicial District Manager in Cabarrus County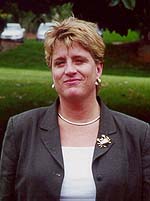 RALEIGH - Secretary Theodis Beck has named Catherine Combs as the new Judicial District Manager for District 19A, serving Cabarrus County. In her new role, Combs leads a staff of 32 employees who supervise more than 2,200 offenders on probation and parole in Cabarrus County.
"Catherine's knowledge, experience and professionalism make her the right person to lead the Community Corrections staff in Cabarrus County," said Secretary Theodis Beck. "I have great confidence in her and her abilities."
Combs joined the Department of Correction in 1982 as a court intake officer in Rowan County, processing new offenders into the probation system. She served as a probation/parole officer for nine years in Rowan County before being promoted to intensive probation/parole officer. In 1990 she became chief probation/parole officer in Cabarrus County.
Combs was involved in the development of the department's School Partnership Program, helping community corrections officers build relationships with their local schools. She also helped pilot the Sex Offender Control program in Cabarrus County.
"I feel really privileged to be able to work with the great staff in Cabarrus County," said Combs. "We'll keep working to find ways to touch offenders' lives and help them become more productive citizens."
Combs attended East Carolina University and graduated from Appalachian State University with a degree in criminal justice. She is a native of Hickory and lives in Salisbury with her husband Dean.
# # #
---
DPS | Adult Correction | Prisons | Community Corrections | Correction Enterprises | ACDP | News | Offender Info | Contact
© 1995-2012 North Carolina Department of Public Safety. All rights reserved.