| | | | | |
| --- | --- | --- | --- | --- |
| | | North Carolina Department of Public Safety | | |
North Carolina
DEPARTMENT OF CORRECTION
Michael F. Easley, Governor Theodis Beck, Secretary
For Immediate Release
May 24, 2001
Contact: Keith Acree
Public Information Officer
(919) 716-3700
---
THOMAS HONORED AS CORRECTIONAL OFFICER OF THE YEAR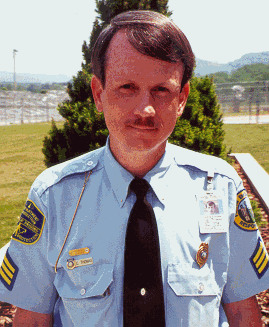 APEX - Sgt. Charles Thomas of Foothills Correctional Institution in Morganton was recognized today by Correction Secretary Theodis Beck and the North Carolina Department of Correction as one of 12 Correctional Officers of the Year.
Thomas was selected for his exceptional work and his contributions to the Department of Correction. Thomas rose to the rank of sergeant in only three years of employment at Foothills. He serves as assistant platoon leader of the Prison Emergency Response Team and has attended PERT basic school and tracking school.
Thomas works tirelessly to raise money for the Special Olympics. He led the effort that raised $1,850 last year at Foothills, and he was directly responsible for collecting $1,200 in contributions. He is leading the fundraising effort again this year.
Thomas joined the Department of Correction in 1994 as a correctional officer. He also volunteers for the Special Olympics and serves as a Royal Ambassador youth counselor. He lives in Morganton.
# # #
---
DPS | Adult Correction | Prisons | Community Corrections | Correction Enterprises | ACDP | News | Offender Info | Contact
© 1995-2012 North Carolina Department of Public Safety. All rights reserved.