| | | | | |
| --- | --- | --- | --- | --- |
| | | North Carolina Department of Public Safety | | |
North Carolina
Department of Correction
Michael F. Easley, Governor Theodis Beck, Secretary
For Immediate Release
May 1, 2001
Contact: Keith Acree
Public Information Officer
(919) 716-3700
Officer Balances Custody Requirements with Medical Treatment Needs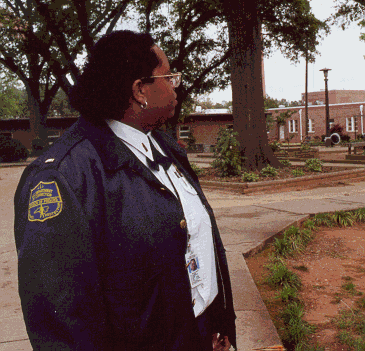 RALEIGH - Lt. Bianca Harris holds a challenging job in one of the state's most unique prison facilities. As the largest women's prison in the state, North Carolina Correctional Institution for Women houses all female inmates held in medium, close and maximum custody. It also houses female inmates in special populations - those requiring medical or mental health care and those in segregation and on death row.
Harris is one of more than 11,000 certified correctional staff who protect public safety by supervising offenders at one of the state's 78 prisons. Gov. Mike Easley has proclaimed May 20-26 as Correctional Officers Week in North Carolina.
Lt. Harris is responsible for the custody of inmates in the prison's infirmary and mental health center, a large job considering since all female inmates needing medical care come to NCCIW. Harris supervises five sergeants and about 30 officers who manage housing for inmates under inpatient mental health care, and those who are chronically ill, terminally ill or pregnant.
Harris and her staff must work to maintain custody and security requirements while still allowing them to receive the medical treatment they need. "You have to be able to communicate with the doctors, nurses and inmates," she said. "It's a challenge to communicate with everyone on a level they can understand."
Harris joined the Department of Correction shortly after her graduation from the University of North Carolina at Chapel Hill with a degree in criminal justice. She had an interest in juvenile and female justice issues. "So I sought out NCCIW," she said, and she's remained there for eight years.
"It's unbelievable to me how how quickly the attitudes of inmates can change, especially in mental health," Harris said. "Around here, there's never a dull day."
- kac -
---
DPS | Adult Correction | Prisons | Community Corrections | Correction Enterprises | ACDP | News | Offender Info | Contact
© 1995-2012 North Carolina Department of Public Safety. All rights reserved.