| | | | | |
| --- | --- | --- | --- | --- |
| | | North Carolina Department of Public Safety | | |
North Carolina
Department of Correction
Michael F. Easley, Governor Theodis Beck, Secretary
For Immediate Release
May 1, 2001
Contact: Keith Acree
(919) 716-3700
Lincoln officer enjoys challenge of Prison Emergency Response Team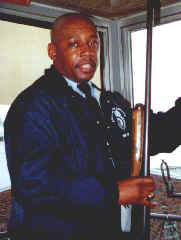 LINCOLNTON- As a prison emergency response team (PERT) member, Correctional Officer Ervin Brown has helped look for escapees, missing persons and he's searched prison units for contraband.
Brown is one of more than 11,000 certified correctional staff who protect public safety by supervising offenders at one of the state's 78 prisons. Gov. Mike Easley has proclaimed May 20-26 as Correctional Officers Week in North Carolina.
"The time I remember the most is the night we were looking for an escapee and we had to spend the night in a graveyard," said Brown. He added that it rained all night and at times he wished he was somewhere else. "But when PERT caught the escapee the next day, that just reinforced the importance of the job."
Being a part of PERT is strictly voluntary and members do not receive any extra compensation. "I enjoy it because it is something different," said Brown. There are more than 600 PERT positions statewide and members are called on based on the geographic area in which they are located and where they are needed. Officers compete for the positions, are tested in physical fitness and must be certified in firearm use.
Brown has been an officer at Lincoln Correctional Center for 13 years. He works first shift and rotates between the facility yard, the inmate dorm and the tower. Brown is certified in pepper spray, firearms and the PR-24, which is short baton.
He is also a mentor to new officers. Brown trains the new officers on procedure and policy and shows them around the facility. "I also tell them if they have any problem at all or just need someone to talk to they can come to me," said Brown.
Brown lives in Boiling Springs with his wife and 11-year-old son. He also has a 21-year-old stepson in the U.S. Air Force. When he's not working he coaches the Shelby Middle School wrestling team and teaches judo. He is a former state and southeastern champion in judo. In addition, Brown is the owner and operator of Brown's Old School Grappling Club, a school for judo and wrestling.
-pkw-
---
DPS | Adult Correction | Prisons | Community Corrections | Correction Enterprises | ACDP | News | Offender Info | Contact
© 1995-2012 North Carolina Department of Public Safety. All rights reserved.