| | | | | |
| --- | --- | --- | --- | --- |
| | | North Carolina Department of Public Safety | | |
North Carolina
Department of Correction
Michael F. Easley, Governor Theodis Beck, Secretary
For Immediate Release
May 1, 2001
Contact: Keith Acree
(919) 716-3700
Road Squad Officers Supervise Inmates Working Along State Highways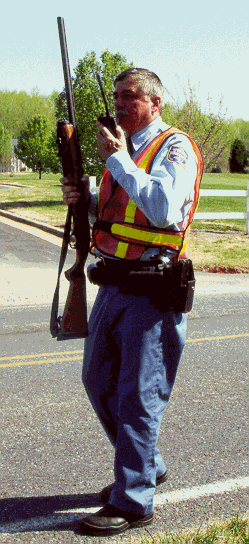 ASHEBORO - They're the modern day version of the old chain gang guards, armed men supervising inmates who work outside the prison fences every day. The inmates no longer wear stripes and chains, and they work along the highways not the railroads. Today, the men in charge are highly trained correctional officers like Willie Garner and Farrell Auman.

Garner and Auman are two of more than 11,000 certified correctional staff who protect public safety by supervising offenders at one of the state's 78 prisons. Gov. Mike Easley has proclaimed May 20-26 as Correctional Officers Week in North Carolina.

Garner is a 19-year Department of Correction veteran, Auman has been with the department for 11 years. Both men have spent all that time working at Randolph Correctional Center, much of it on the medium-custody road squads.

Each morning the officers load a squad of inmates onto their bus and report to the nearby Department of Transportation yard for their work assignment. "Years ago we mostly cut brush from the right-of-way," said Garner. "Our job was to keep the intersections clear for the school buses. Now it's mostly picking up trash."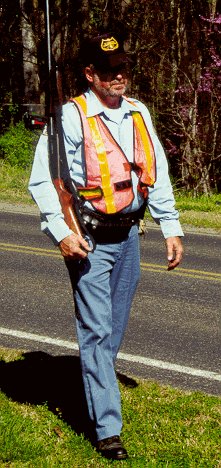 With the inmate squads handling trash pickup and right-of-way maintenance, the regular DOT crews are available to handle more complicated engineering jobs. "It's a great help," said Archie Smith, a DOT maintenance supervisor. "We don't have nearly the manpower to do this work. We try to utilize them as much as possible."
The road squad officers maintain a constant watch, each armed with a shotgun and a pistol and ready to stop a fleeing inmate, but in all their years on the road squad they've never experienced an escape attempt.
"When the inmates are off the bus, I'm off the bus, because I'm responsible for them," said Garner. They move quickly down the road, picking up trash in their path. Garner leads the way and directs the inmates as Auman brings up the rear.
The inmates along the roadside get varied reactions from passing motorists. Sometimes they'll wave or give you a thumbs-up," said Auman, and sometimes the reactions aren't so positive. "But we do feel like we're doing something good for the local communities," said Garner.
-kac-
---
DPS | Adult Correction | Prisons | Community Corrections | Correction Enterprises | ACDP | News | Offender Info | Contact
© 1995-2012 North Carolina Department of Public Safety. All rights reserved.