| | | | | |
| --- | --- | --- | --- | --- |
| | | North Carolina Department of Public Safety | | |
---
FOR IMMEDIATE RELEASE
March 14, 2001
Contact: Tracy Little
Director of Public Information
(919) 716-3700
Cochrane named superintendent at Wake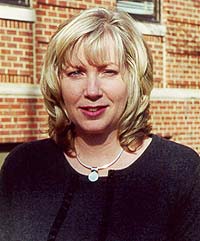 RALEIGH - Eileen Cochrane has been promoted to superintendent at Wake Correctional Center, effective March 1.
In making the appointment, Correction Secretary Theodis Beck praised Cochraneís diverse background in corrections. "Eileen Cochrane began her career as a correctional officer, and has worked with youth, females and males in both custody and program settings. I believe she is well-prepared to assume this leadership position," said Secretary Beck.
Cochrane began her career in 1979 as a correctional officer at the Morrison Youth Center for females. In 1981 she was promoted to a program assistant at the Morrison Youth Center for males where she remained until 1985 when she became a program supervisor at Sandhills Youth Center. In 1988, Cochrane first worked in an adult male facility when she became a program director at Orange Correctional Center. In 1993, she was named assistant superintendent for custody at Raleigh Correctional Center for Women. She moved to Wake Correctional in March 1999 when she became assistant superintendent for programs.
"I feel that Iím ready for this new challenge," said Cochrane. "The staff at Wake is top-notch. I feel fortunate to be chosen to lead this facility."
Cochrane, who grew up in the Washington, D.C. area, attended Atlantic Christian College in Wilson for two years and received her bachelorís degree in corrections in 1978 from East Carolina University. She is also a graduate of the Public Managerís Program and was a founding member of Women in Corrections. Cochrane lives in Cary and in her spare time enjoys tennis, hiking and working with her church.
Wake Correctional Center is a minimum-security facility that houses adult male inmates.
---
DPS | Adult Correction | Prisons | Community Corrections | Correction Enterprises | ACDP | News | Offender Info | Contact
© 1995-2012 North Carolina Department of Public Safety. All rights reserved.